Downtown workers are feeling the effects of the city's effort to get tough on people who regularly fail to feed their parking meters.
Parking-fine collections increased by 80 percent last year, the first full year since the city installed a software program that tracks tickets and helps identify people who owe the most in unpaid fines. The system is identifying people before they can rack up huge balances, and many people who used to owe large amounts are working to pay off their debts.
"I don't put tickets in my glove compartment anymore, which is good," said 23-year-old Jeremy Cain, an employee of Hobbs Inc. who was No. 8 on the city's list of top parking violators a year ago with $1,070 in unpaid fines.
Cain's failure to appear in municipal court to address the fines led to his arrest, and he was booked into the Douglas County Jail last summer. Today, he owes the city nothing because his mother paid the fines as a way to bail him out of jail.
"I'm not doing a very good job of paying her back," he said.
After the city began using the new software in spring 2003, city records showed nine people with $1,000 or more in outstanding parking fines. Today, that is down to four people -- three of whom were near the top of last year's list of violators and still haven't been located.
The average dollar amount owed by the top 10 is down to $1,295 from $1,688 a year ago.
Despite the drop in high-dollar parking outlaws, more people are accumulating unpaid fines between $100 and $500, municipal court administrator Vicki Stanwix said. A major reason is that at the beginning of the year, the city commission increased the "habitual violator" fine from $15 to $50.
People automatically get a habitual-violator fine on the sixth ticket in a one-month period, even if they've paid all the previous tickets.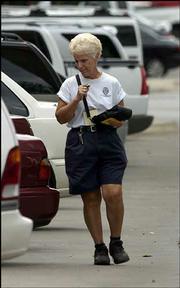 Teri Williams, an employee of Arizona Trading Company, disagrees with the idea that people should get habitual-violator fines even if they pay the tickets on time.
"That's the stupidest thing I've ever heard of," said Williams, who's No. 15 on the city's list with $345 in unpaid fines. "I'm going to guarantee you that more than half of what I owe is from those habitual violator tickets. ... They just need to get off my back."
Stanwix said one goal of the habitual-violator ticket was to discourage workers from parking in short-term spots that should be available for customers. City officials say the workers should park in long-term lots, but many employees say they're too far away, especially when they have to walk after-hours.
City prosecutor Jerry Little said many people complained to him that the habitual-violator fine was unfair or too steep. He said the city was willing to work with people, either by reducing the amount of the fine or letting them get away with a warning.
"If it's a first-timer that didn't know the ordinance, we try to educate them," he said. "Usually, those people we don't see back."
The city collected $244,024 in unpaid fines in 2002. In 2003, the first full year after the new software was installed, collections rose to $437,453.
Efforts to contact most people listed as the city's top-10 violators were unsuccessful, with one exception. Carson Brackney, manager of Ace Sports & Tickets, 647 Mass., declined comment.
J-W Staff ReportsHere are the names of the registered owners of cars in Lawrence with the most unpaid parking fines, according to city records. Each name is followed by the license-plate number of the vehicle and amount of fines owed.City officials emphasize that these people have not been convicted and that they are the cars' registered owners, not necessarily the drivers.1. William Gartner (ONS 064/PPS 718): $3,8602. Brenda Elpers (OAS 844/ PNZ 438/ TAZ 930): $2,0703. Julious Edwards (785 ABP*): $1,4904. Daniel Winsky (TAQ 440): $1,4455. Carson Brackney (VPD 598): $9006. Ailin Guerra (POC 130/ POC 126/OCP 861): $8457. Ann Turner (UOA 994): $7358. Randall Kahn: (URF 854/ POF 307) $6409. Molly Peterson (VIG 919): $54110. Twila Lampke (VIJ 970/UHO 743): $430* Missouri plate
Copyright 2018 The Lawrence Journal-World. All rights reserved. This material may not be published, broadcast, rewritten or redistributed. We strive to uphold our values for every story published.