The ice-cream parlor was the coffeehouse of the 19th century.
Customers wanted milkshakes, ice cream and glamorous surroundings, but they also wanted a place to sit and talk with friends. The ice-cream parlor was usually an impressive, clean building with marble counters and walls, chrome fixtures, colorful ceramic syrup or cola dispensers, and tables and chairs. It was a popular boy-meets-girl stop.
Ice cream also was sold in paper squares by street vendors, but because of unsanitary conditions, the ice cream sometimes caused illness. About 1899, street vendors introduced the ice-cream sandwich -- two wafers with ice cream in the middle. No spoon or paper was needed to eat the sandwich. By 1910, an ice-cream scoop had been invented that made sandwich-size slices of ice cream. In the 1920s, sliced ice cream was often served on a plate and eaten with a spoon. Collectors today search for ice-cream scoops for both slices and cones.
Three years ago, I paid $365 for a gold-painted wooden wall clock at a used-furniture shop. The clock is 27 inches tall by 14 inches wide. The clock face is marked "Westerstrand, Made in Sweden." I cannot find anyone who has ever heard of Westerstrand. Do you have any information?
Westerstrand is still in business in Toreboda, Sweden. The clock-manufacturing firm was founded in 1906. Its business today focuses on industrial time systems and large information boards. Westerstrand wall clocks like yours were popular after World War II into the 1950s. They are well-made and keep accurate time. Prices for the clocks hover around $250.
Please tell me what a firkin is. I've seen some advertised for sale. The dictionary says it's a small barrel, but I would like to know more.
Firkins are also called sugar buckets or pantry boxes. They were first made by colonial coopers (barrel makers) as containers for dry goods, butter or cheese. They are wooden, narrower at the top than at the bottom and usually have a wooden bail handle. The older a firkin, the more valuable it is. Collectors prefer painted firkins, but sometimes the paint was added years after the firkin was made. Firkins are sometimes mistakenly labeled "Shaker boxes" at sales because some were constructed with lapped and pointed joints, like Shaker boxes.
I have a ceramic Uncle Wiggily cereal bowl that I used when I was a child in the late 1920s. The bowl is 8 inches in diameter, with a rim trimmed in blue. Within the rim are paintings of six different Uncle Wiggily characters. At the center of the bowl, there's a scene of Uncle Wiggily arm in arm with Grandpa Goosey Gander. The mark on the bottom, printed in gold paint, is "Uncle Wiggily, copyright 1924, New York City, Sebring Pottery Co." Any information on history and value?
Uncle Wiggily Longears is a rabbit cartoon character created in 1910 by writer Howard R. Garis (1873-1962). Garis was hired that year by the Newark (N.J.) News to write a series of children's stories. During the next 40 years, he wrote more than 15,000 Uncle Wiggily tales. They were syndicated, and appeared in newspapers all across the country. Collectors can find Uncle Wiggily books and comic books, as well as games, puzzles and dishes. Your bowl, made in Sebring, Ohio, by the Sebring Pottery Co., was sold in retail stores beginning in the late 1920s. Your bowl is scarce. If it's in excellent condition, it could sell for about $200.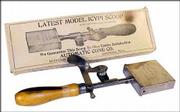 At the 1939 New York World's Fair, I bought a small, round metal tray with 12 light-green marbles embedded around the edge. The center section is embossed "New York 1939 World's Fair." The back is marked "Fisher Jewel Tray, Pat. 99857." Value?
The design for your Fisher Jewel Tray was patented in 1936. The trays were made with about 20 different colors of marbles. The metal surface on plain trays was either hammered or smooth. Your World's Fair souvenir version, worth about $150, is more valuable than a plain one. The trays were made by the Fisher Manufacturing Co. Marble collectors hunt for the trays and sometimes refer to them as "ashtrays." They were probably originally designed as tip trays for restaurants and bars.
My tea set, marked "McCoy Pottery" on the bottom, has raised pine cones as the design on the sides. When was it made?
The pattern is called "Pine Cone." It was made about 1946 by the Nelson McCoy Pottery of Roseville, Ohio. McCoy pottery is very popular today. A Pine Cone teapot, creamer and sugar set sells for $100.
Tip
If you get gum on your Oriental rug or carpet, freeze it with an ice cube in a plastic bag, then scrape it off with a plastic credit card.
Current prices are recorded from antiques shows, flea markets, sales and auctions throughout the United States. Prices vary in different locations because of local economic conditions.¢ Childhood sampler, 5 alphanumeric rows, basket of flowers, trees, flowers, red, blue and green, signed "M. Fairbairn," framed, 7 x 8 inches, $230.¢ Howdy Doody figurine-painting kit, plaster figurines, paints with brush, instructions, color card, Hadley, $250.¢ Cast-iron armchair, back crest, scrolled arm, scrolled and floral design, Pat. Apr. 7, 1902, 35 inches, $285.¢ Weller Woodcraft table lamps, green tree-and-vine design, brown ground, 18 5/8 inches, pair, $400.¢ Frozen Charlie doll, unjointed, pink-tinted body, painted blue eyes, closed mouth, blond hair, hands in fists, 15 inches, $575.¢ Pairpoint Ambero hurricane lamp, textured citron body, enameled green-and-rust leafy border, brass fittings, 23 inches, $900.¢ Star Whiskey bottle, medium amber, applied lip with pouring spout, applied handle, open pontil, New York, H.B. Crowell Jr., 8 inches, $750.¢ Northeastern United States and Canada map, 1756, engraved by Chambon, highlighted boundaries, 23 x 31 1/2 inches, $2,300.¢ Federal linen press, inlaid cherrywood, 2 parts, 2 recessed paneled doors, shelves, 4 drawers in lower section, French bracket feet, late 18th century, 79 inches, $7,640.¢ Grueby vase, 7 molded leaf panels, separated by long stems, 5-petal yellow flower on shoulder, impressed mark, dated 6/28, 8 x 10 inches, $9,315.
Copyright 2018 The Lawrence Journal-World. All rights reserved. This material may not be published, broadcast, rewritten or redistributed. We strive to uphold our values for every story published.