Pastors come, and pastors go.
It's the in-between times -- when congregations are led by interim or visiting pastors, or lay people -- that challenge churches.
Membership can dwindle or stagnate. Factions can clash over who's in charge and where the power should lie. The church body can lose focus, lack inspiration and forget its mission while trying to find its next spiritual leader.
"There's a difference when there is no head, no leader; there is a difference in how the church functions," said Alice Fowler, longtime member of First Regular Missionary Baptist Church, 1646 Vt. "You count on the man of God being the person who receives the instruction, the vision and how to move the church forward.
"If you have more than one person trying to run things, if it's just everybody doing their own thing, it's confusing."
During her time as a member, Fowler has witnessed several leadership changes in the church, which will celebrate its 136th anniversary in October.
Before the Rev. Reginald Bachus came on board as senior pastor, First Regular Missionary Baptist didn't have a full-time minister in the pulpit for 14 to 15 months. Bachus has worked hard to build up the church so that it could easily sustain itself in between pastors, if that occasion arose.
"One of the things I've tried to do is make sure that the leadership is developed to the point that they can carry on. I want them to have the right attitude that the church can continue," he said.
"Development is extremely important. Pastors die and pastors leave, and they want to leave their churches with continuity and stability. I've done the best I know how."
Keep things running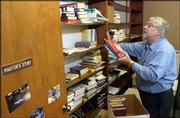 Houses of worship aren't the same as they used to be 30, 40 or 50 years ago, when spiritual leaders were fixtures in their congregations.
In today's more mobile society, better positions open up across the country, and people -- including clergy -- move on to accept them.
It's left to the congregations to adjust to the change, say their goodbyes and begin the oftentimes lengthy search for a new leader.
The time between permanent pastors can stretch for months, even a couple of years. Many congregations come to rely upon one or more interim pastors to keep things moving in the right direction.
That was the case at West Side Presbyterian Church, 1024 Kasold Drive, after its pastor, the Rev. Dick Pierson, left the pulpit to serve a church in Butler, Mo.
Within days after Pierson left, the Rev. Jay Gideon, a Presbyterian minister from Topeka began serving as interim pastor at West Side. He stayed for two years before retiring early this year. Then the Rev. Patricia Slider, another Presbyterian pastor from Topeka, came to serve the church for six months, finishing her ministry there in July.
During those couple of years, the church's pastor nominating committee was refining its search for a full-time minister. It eventually screened about 50 candidates.
The time between the departure of one full-time pastor and the selection and arrival of a new one doesn't have to be viewed as just a holding pattern for a church.In fact, it can be an opportunity for a congregation to do some self-examination and experience important growth, according to the Rev. Ray Fancher, interim senior pastor of First Presbyterian Church, 2415 Clinton Parkway.Fancher identified five challenges that typically face congregations when a pastor leaves:¢ Congregations have to come to terms with their history -- the good, the bad and the ugly.¢ As they anticipate a new pastor, churches need to come to understand their identity, asking, "What is our vision and mission now?"¢ Understanding that any time there is a major change to a system, such as a church, there will be shifts in the way power is demonstrated and effected in the congregation. That's natural.¢ Churches need to build or re-establish partnerships with organizations in the community, identifying those that would be glad to share in the kind of good work a congregation is doing.¢ Congregations have to make a commitment to both a new direction and new leadership, affirming that where they're headed may be very different than it was even a few years ago.
And West Side's elders and deacons stepped forward to make sure all of the church's pastoral functions, committees and activities kept running smoothly.
A combination of skilled interim pastors and committed lay people helped West Side succeed while the church was seeking a new leader.
"I think that's when your faith is truly tested. If you have a common goal, know the direction and mission of the church and know what's expected of everybody, you just pitch in and away we go," said Gary Freeman, co-chair of West Side's pastor nominating committee.
Ultimately, the church settled upon the Rev. Bill Woodard as its new pastor. Woodard, 58, and his wife, Claudia, moved to Lawrence this week from Clarksville, Ark., where he spent the past seven years as chaplain of the University of the Ozarks.
Woodard started his ministry at the church here Aug. 1.
"West Side was very fortunate to have wonderful interim pastors to work with. Consequently, this church is charged up and ready. They don't have to figure out who they are; they already know. I'm really excited about being here," Woodard said.
Getting a head start
Lawrence Heights Christian Church, 2321 Peterson Road, didn't have to go without a pastor for an extended period when the Rev. Rod Hinkle left in 2000. Hinkle, who had served the church for more than 20 years, gave the congregation a year's notice that he would be vacating the pulpit.
"It gave us a lot of opportunities, and a lot of time to consider exactly who we are as a congregation, who we wanted to be and what direction we wanted to go. One of the first things Rod did was to encourage the leadership to form a (pastor) search committee," said Steve Koberlein, who co-chaired that committee.
When Hinkle was ready to leave in 2000, the church had chosen a new pastor, the Rev. James "J.T." Taylor. Only two or three weeks elapsed between Hinkle's departure and the start of Taylor's ministry at Lawrence Heights.
"When Rod announced he was leaving, people were obviously saddened but supported him in that decision," Koberlein said. "We hated to see him go. But then we came to the realization, 'OK, this is real, we really need to move on.' Then the Lord just opened the door for J.T.'s ministry."
Copyright 2018 The Lawrence Journal-World. All rights reserved. This material may not be published, broadcast, rewritten or redistributed. We strive to uphold our values for every story published.