Ghosty - (pop rock)
Serendipity's gentle caress touched Ghosty as the members were recording in Norman, Okla. Wayne Coyne of The Flaming Lips happened into the studio, took to the Lawrence four, and offered to lay down some vocals for their debut full-length. Probably won't hurt their efforts to get the album some attention. Since adding some nuanced keys to the band's brilliant songwriting and sparse, sometimes dissonant guitar pop, Ghosty has continued down all the right paths.
Anything But Joey - (pop rock)
These days there's just a handful of Lawrence rock bands that get hundreds of superfans out (rain or shine) every single show. Like a Get Up Kids or Ultimate Fakebook gig, ABJ's shows pack the big venues with all kinds, singing along en masse, actually participating in movement approximating dancing. It's an amazing spectacle for an otherwise "local" show. Anything buy janky.
Appleseed Cast - (indie rock)
The swelling circle of quality bands in town is no doubt attributable in part to Appleseed Cast, whose discography forms the upper echelon of Lawrence music.
The four-piece has carried the vanguard for brave experimentation beyond safe rock formulas. The band's new CD is perhaps even bolder -- blending their atmospheric, yet complex electronica with sounds from their earlier albums, sounds about as tough to sell as the tag "emo."
The Belles - (indie rock)
You might think us biased because The "badass" Belles are from Lawrence, so here's what Rolling Stone -- a reputable national music publication -- has to say: "The Belles may be light, but they're far from lightweight ... their art is easy listening, but in a mentally nourishing way."
Approach - (rap)
One of Lawrence's premier MCs, Approach has been rapping for close to a decade now. His Coup d'Etat debut "Ultra Proteus" is a diversified journey through hip-hop, funk and soul that will make heads bop and spin.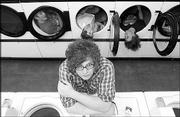 Capsules - (space pop)
The unassuming, supremely chilled-out Lawrence trio produce an immense sound, one that could fill any arena -- much less any capsule. Only Julie Shield's cherubic voice could cut through her beau Jason's whale-like bass lines and effects. Though unwavering shoe-gazers, they do rock out, but with pop hooks tempered with a sublime beauty reminiscent of Low, Coldplay and/or My Bloody Valentine.
Conner - (rock)
Raucous, rolling-around-on-the-bar-floor style but button-down, dressed nicer than you are, Conner is at once prim and unbridled. Tight riffs and intense melodies make a muse for mayhem when Conner is at its best -- live.
Deep Thinkers - (hip-hop/rap)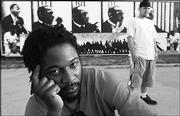 The Deep duo of lyricist Brother of Moses (probably the foremost "conscious" local MC) and Lenny D (easily one of the top three producers in town) create potent hip-hop worthy of national attention.
Pomeroy - (rap rock)
Pomeroy's hip-hop-inspired rock-funk (a la Red Hot Chili Peppers or Sublime) always draws an energetic party. Though the Manhattan four can capably work bigger stages and bigger crowds, this show puts them an intimate bar-and-grill setting with no stage.
Son Venezuela - (Latin dance)
Latin veteran act Son Venezuela is a true-blue interpreter of all the Latin dance forms that you can't remember the correct names for (that's OK -- we can't either). Son Ven = partay.
Split Lip Rayfield - (hillbilly hardcore)
Hillbilly hardcore, post-punk progressive bluegrass, Appalachian Black Sabbath -- whatever you call what Split Lip plays, fact is there should be nary a Kansan that doesn't take pride in this, the quintessential Kansas band. The foursome plays traditional bluegrass instruments (except a one-string upright bass fashioned from a gas tank) with enough fury to whip the whole crowd into a sweaty frenzy.
The Billions - (pop rock)
The Billions combine ever-changing arrangements of guitar, keys and varied percussion with lyrical sincerity -- uber-sincerity even -- while never taking themselves too seriously. Easily Lawrence's standout songwriting foursome.
The Esoteric - (metal/hardcore)
Simply put, the 'teric guys are Lawrence's virtuosos of metal. If you think you can't stand hardcore, you probably haven't seen this band yet.
The Get Up Kids - (emo)
Probably the best known band outta Lawrence these days, TGUK played a huge role in defining the "emo" sound, but don't call 'em that anymore. The band's spunky new record "The Guilt Show" translates better to the stage than its low-key last album. Though known to tour extensively, the ensemble only plays one or two shows locally a year.
Tech N9ne - (rap)
When Lawrence/KC hip-hop gets a spot on the national map, Tech N9ne will no doubt be hailed as the "originator." And damn if he doesn't deserve it. Tech has powered his way through a decade of hardships and haters, back-stabbing and broken contracts to get bigger and badder every year. His lyrical talent has earned him props from Tupac, Eminem and many more.
Tanner Walle - (singer/songwriter)
On the John Mayer tip, Tanner Walle delivers the goods: sensitive, tuneful rock songs tempered by jazzy chord progressions and a whole lot of crooning. He's backed by talented area musicians including Nate Holt (DJNOTADJ) and Luke Stone (Pocket Space). You can almost hear the crowd now: "Taaa-ner! Taaa-ner! Taaa-ner!"
Copyright 2018 The Lawrence Journal-World. All rights reserved. This material may not be published, broadcast, rewritten or redistributed. We strive to uphold our values for every story published.