A Tucson twosome, a Topeka backstop and a California southpaw have Kansas University softball coach Tracy Bunge smiling.
Three of the four -- all freshmen -- figure to cure what ailed the Jayhawks in 2004, and the other is likely to plug the most important graduation loss.
KU's team batting average was an anemic .205 -- the lowest since record-keeping began in 1979 -- but solid pitching by senior Kara Pierce and freshman Kassie Humphreys helped the Jayhawks fashion a winning season (33-28-1).
Of the six seniors who completed their eligibility, the hardest to replace will be Pierce, a durable right-hander who won 69 games during her four-year career, including 19 as a senior.
Pierce's likely replacement is Christina Ross, an all-state left-hander from Santa Clarita, Calif.
"She's not real big, but she has lots of experience," Bunge said of Ross, who posted an 0.27 earned-run average as a junior and 0.29 ERA as a senior at Valencia High.
Interestingly, Ross will be the first left-handed pitcher Bunge has had in her nine years as the Jayhawks' head coach.
The other three incoming freshmen possess credentials to upgrade the offense. Outfielders Jackie Vasquez and Cyndi Duran, both Tucson, Ariz., high school products, have two qualities KU lacked.
"Both bat left, and both are fast," Bunge said. "Cyndi is quick, but Jackie is a rabbit. They'll give us the speed at the top of the lineup we haven't had."
Both Vasquez and Duran were all-staters in tradition-rich Arizona prep softball. At Catalina Foothills High, Vasquez compiled a .440 batting average and a glossy .627 on-base percentage. She also stole 15 bases. Duran, a 5-foot-3 switch-hitter, batted .390 for Flowing Wells High. In the classroom, she recorded a 3.6 grade-point average.
The other newcomer who should help rejuvenate the offense is Elle Pottorf, a right-handed hitting catcher from Washburn Rural. A two-time all-stater, Pottorf missed most of her senior season because of an injury.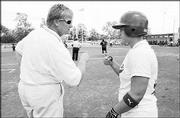 "She's a gap power-hitter," Bunge said of Pottorf. "I picture her in a 3-6 spot in the lineup. She hits the ball a ton, and she has a strong arm."
Bunge's offense definitely needs to improve. Only a couple of players posted higher batting averages than the year before, when the team BA wasn't much better at .218.
Shortstop Destiny Frankenstein lifted her average from .214 as a freshman to a team-leading .263, and left fielder Heather Stanley, another sophomore, climbed from .213 to .243.
Otherwise, just about everybody else tailed off, notably second baseman Jessica Moppin, who hit .266 as a freshman with 11 home runs but only .193 with three homers as a soph.
"I think she just had an off year," Bunge said of Moppin, an Olathe South High product. "It's not because she didn't work. She spent extra time doing the things she needs to do, but we need to work on getting her swing straightened out."
Bunge is also hoping for a full recovery from Serena Settlemier, who sat out the 2003 season because of an arm injury and pitched sparingly last spring with a metal plate in her right forearm. The plate was scheduled to come out this summer.
Settlemier was used primarily as a designated player last spring. She hit 11 home runs in the first half of the season, but curiously none in the second half. Nevertheless, Settlemier led the Jayhawks in round-trippers. No one else had more than four.
If Settlemier returns to her mound form of 2002 (12-7 record, 1.88 ERA) and Ross is as good as Bunge thinks, the Jayhawks will have two quality hurlers to go with Humphreys, a touted recruit who didn't disappoint as a freshman.
Humphreys' record was a so-so 14-12, but her earned-run average was a stingy 1.57, and she tossed a pair of shutouts at Big 12 Conference champion Nebraska.
Nicole Washburn, the Jayhawks' second-leading hitter (.246), had a solid freshman year at first base.
The biggest question mark is third base, where departing senior Sandy Smith (.161) and soph Nettie Fierros (.124) swung chilly bats.
On the bright side, Fierros hit .247 as a freshman and, said Bunge, "She needs to bounce back."
Copyright 2018 The Lawrence Journal-World. All rights reserved. This material may not be published, broadcast, rewritten or redistributed. We strive to uphold our values for every story published.