Kansas City, Mo. — Garfield, Cathy, Dilbert and Ziggy, along with the rest of the characters from the comics page, are looking for a second home: your cell-phone screen.
As the number of people carrying next-generation mobile phones soars, comic distributors hope mobile users will be their next market.
For a few dollars a month tacked onto your mobile bill, two privately owned U.S. companies -- GoComics and FunMail Inc. -- are hawking comic-themed screen savers, mobile greeting cards and daily comic strips specially formatted for cell-phone screens.
"We see our mission as distributing bite-size information for short attention spans," said Fabrice Florin, managing director of GoComics. The company is a partnership between uclick, the digital arm of Kansas City-based Universal Press Syndicate, and Handtap Communications, a Mill Valley, Calif.-based mobile content provider.
"In less than a minute you get a little chuckle," he said. "It's really appropriate in today's world where people have less and less time."
The comic ventures are an effort to capitalize on a growing market for news and entertainment on cell phones.
The growth of the market is fueled by the proliferation of handsets that can handle graphics and the use of high-speed transmission networks such as the 3G standard.
Florin said Americans typically replaced their phones every two years and Europeans and Asians more often.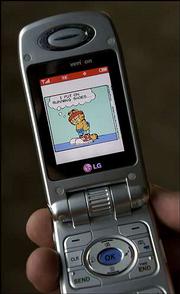 "Inevitably, the next time you go in and get a new one, you'll get this nice color screen and you'll say, 'Where can I go to get something"' to put on the phone?
The comics, Florin said, "offer a daily dose of fun to life on the go."
Seamus McAteer, a senior analyst for the San Francisco-based Zelos Group, said mobile entertainment would cross the billion-dollar threshold in the United States in the next year.
"We will look back on 2004 and 2005 as a period when a new medium was really created," McAteer said.
And unlike the Internet, McAteer and Florin said, a billing structure is in place thanks to the phone carriers to handle $1 and $3 charges for small downloads of content like games and comics.
"These mobile phones are mobile billing machines," Florin said. "The billing system is in place to support people's willingness to use these products, which we didn't have with the Internet. The customers expect everything on the Internet to be free."
Florin of GoComics said the operation was breaking even. The company began making several of Universal Press Syndicate's strips available on a daily basis last year through an arrangement with Overland Park, Kan.-based Sprint Corp. and other U.S. and overseas carriers.
New York (AP) -- Cell phone providers Cingular Wireless and Virgin Mobile USA are offering "date rescue" features. In an era of Internet-set dates, it's just customer service -- a hip way to wiggle out of an uncomfortable encounter.The rescue calls are a way to use the phone as a lifestyle accessory, Virgin Mobile spokeswoman Sarah Koening said.With both Cingular's Escape-A-Date and Virgin Mobile's Rescue Ring service, a customer can arrange to be called at a set time, using the cell keypad. An automated voice offers an excuse for the customer to repeat into the phone, such as a promise to aid to a locked-out roommate, for a graceful escape.The rescue-call service is part of a Cingular package that costs $4.99 a month. Virgin Mobile offers its Rescue Ring at 25 cents per use, plus the price of the call.
Copyright 2018 The Associated Press. All rights reserved. This material may not be published, broadcast, rewritten or redistributed. We strive to uphold our values for every story published.