DETROIT — Tim Wakefield won a game and ended up in the record book.
He enjoyed one feat much more than the other.
Wakefield gave up six homers, matching a modern major-league record last set 64 years ago, but he wound up with the victory when his Boston Red Sox outslugged the Detroit Tigers, 11-9, Sunday.
"I'm glad we won, but that's just because the offense scored more runs than I gave up," Wakefield said. "I'd rather just forget about the whole thing."
David Ortiz's three-run shot capped a six-run fourth inning, and Kevin Youkilis homered twice to help the Red Sox overcome seven Detroit home runs.
"I don't remember ever hitting two homers in pro ball," Youkilis said. "I'll remember this one, though."
Ivan Rodriguez and Eric Munson each connected twice for the Tigers on an unusual day at spacious Comerica Park. The teams combined for 10 homers, the most in the stadium's five-year history. Detroit's seven homers were the most ever hit by one club at Comerica.
"I'm not sure what was happening out there," Munson said. "Some of the balls that went out weren't crushed by any means, but the ball was just really carrying."
Three homers went over the shortened left-field fence and would not have been home runs before the Comerica Park fences were brought in last year.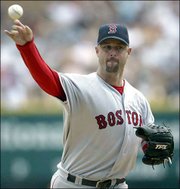 Wakefield (8-6) allowed two homers to Rodriguez and one each to Munson, Craig Monroe, Carlos Pena and Dmitri Young. Yet the knuckleballer left after five innings with a 10-7 lead.
"He didn't have his best stuff, but give him credit -- he stayed out there for five innings," Boston manager Terry Francona said. "I've never seen the ball carry like it did today -- it was just flying all over the place."
Wakefield is the sixth pitcher since 1900 to yield six homers in a game, but the first since George Caster of the Philadelphia Athletics against the Red Sox on Sept. 24, 1940.
The previous Red Sox record was five, by Wakefield in 1996 and Hall of Famer Dennis Eckersley in 1979.
"I didn't have any feeling for the knuckler today at all," Wakefield said. "I was just trying to get an out anywhere I could find one."
In 1886, Charlie Sweeney of the St. Louis Maroons in the National League gave up seven homers in a game, according to the Elias Sports Bureau.
Brooklyn's Hollis Thurston was the last pitcher to give up six homers and win the game, beating the New York Giants at the Polo Grounds on Aug. 13, 1932.
Three Red Sox relievers finished, securing Wakefield's third straight win. Keith Foulke pitched a perfect ninth for his 18th save in 23 chances.
Nate Robertson (9-7) failed to take advantage of Detroit's big day on offense, giving up eight runs -- seven earned -- in three-plus innings.
Yankees 8, Blue Jays 2
New York -- Bernie Williams hit the 10th grand slam of his career, leading the Yankees to their fifth straight victory.
Jon Lieber (8-7) extended the Yankees' streak of eight-inning efforts by starting pitchers to four, limiting the Blue Jays to four hits.
Williams connected in the first inning against Miguel Batista (9-7).
Orioles 11, Rangers 5
Baltimore -- Melvin Mora went 3-for-5 with a homer and four RBIs to back a strong pitching performance by a rejuvenated Sidney Ponson (7-12), and the Orioles beat the Rangers for their season-high sixth straight victory.
The Orioles roughed up 13-game winner Kenny Rogers (13-5) and defeated the Rangers for the eighth straight time over two seasons.
Devil Rays 5, Mariners 1
St. Petersburg, Fla. -- Rookie B.J. Upton hit a tiebreaking single in the sixth inning for his first major-league RBI, and Rob Bell (5-5) allowed one unearned run in seven innings for Tampa Bay.
Danys Baez got one out for his 24th save in 26 chances.
Moyer (6-8) allowed five runs and 13 hits in 61/3 innings, falling to 0-6 with four no-decisions since his last win at Pittsburgh on June 18.
White Sox 3, Indians 2
Chicago -- Timo Perez scored all the way from first on Ben Davis' long single in the ninth to give the White Sox the win, snapping a four-game losing streak. Davis lined a two-out hit to right-center off Cleveland reliever Rafael Betancourt (5-6) after Perez had singled.
The White Sox nearly let this one get away and cost Jose Contreras a win in his first home start with Chicago, when Martinez hit a solo homer off Damaso Marte with one out in the ninth to tie it at 2.
Shingo Takatsu (5-3) got the last two outs in the ninth, ending Cleveland's four-game winning streak.
Athletics 6, Twins 5, (18)
Minneapolis -- Jermaine Dye hit a tiebreaking single in a three-run 18th inning, and the Athletics held on for the win in a game that lasted 4 hours, 57 minutes.
It was the second-longest game in the 23-year history of the Metrodome. Cleveland and Minnesota played 22 innings on Aug. 31, 1993. This one matched the longest game in the major leagues this season. Texas beat Seattle, 9-7, in 18 innings June 24.
The A's broke through against Terry Mulholland (3-5) in the 18th. Marco Scutaro hit a one-out single and went to third on Eric Chavez's single. Dye then looped a single to center to put Oakland ahead. One out later, Erubiel Durazo and Damian Miller each hit RBI singles.
Chris Hammond (3-1) pitched three shutout innings for the win.
Copyright 2018 The Associated Press. All rights reserved. This material may not be published, broadcast, rewritten or redistributed. We strive to uphold our values for every story published.