CANTON, OHIO — Fathers and sons.
Sometimes the connection is obvious. And sometimes, as is the case with William and Barry Sanders, it isn't.
Which is why I was surprised to learn that the father, William, had been selected by the son, Barry, to make the introduction speech at Sunday's Pro Football Hall of Fame induction ceremony.
What would Willie say? He never has been one to bite his tongue.
"My dad, he's going to wing it," Barry Sanders said before the induction ceremony. "He could be extra short, he could be extra long -- it all depends on how he feels. But for me, it was really a no-brainer to have him introduce me. He's always been my biggest fan, or my biggest critic, whether we're talking about sports or academics or whether I could be a better person. For me, this just makes sense."
OK, Barry, we'll trust that you know what you're doing. But boy, this could get interesting.
Because Willie was pretty angry when Barry, from Wichita's North High, left the Detroit Lions just before the beginning of training camp in 1999, without an explanation to the team. And if you know William, you know there is nothing that goes unsaid.
If a thought comes into his head, it has clear sailing to his lips.
Would William use this forum to finally pay his son the kind of respect we all know he deserves?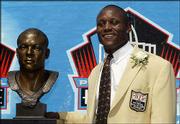 Or would he take Barry to task one more time, in front of thousands of sun-drenched fans, more than 50 Hall of Famers and a national television audience?
Willie, it turns out, was on his best behavior.
His speech was certainly not as tender and sentimental as those given by the daughter of John Elway and the sons of Bob Brown and Carl Eller, the others inducted Sunday.
In fact, Willie said very little about Barry.
"If you want to know about Barry Sanders, then you have to buy Barry Sanders' book," he said.
Career rushing statistics for Barry Sanders, who was inducted into the Pro Football Hall of Fame on Sunday:
| | | | | |
| --- | --- | --- | --- | --- |
| | Att | Yds | Avg | TD |
| 1989 Detroit | 280 | 1470 | 5.3 | 14 |
| 1990 Detroit | 255 | 1304 | 5.1 | 13 |
| 1991 Detroit | 342 | 1548 | 4.5 | 16 |
| 1992 Detroit | 312 | 1352 | 4.3 | 9 |
| 1993 Detroit | 243 | 1115 | 4.6 | 3 |
| 1994 Detroit | 331 | 1883 | 5.7 | 7 |
| 1995 Detroit | 314 | 1500 | 4.8 | 11 |
| 1996 Detroit | 307 | 1553 | 5.1 | 11 |
| 1997 Detroit | 335 | 2053 | 6.1 | 11 |
| 1998 Detroit | 343 | 1491 | 4.3 | 4 |
| Totals | 3062 | 15269 | 5.0 | 99 |
To which Barry, seated behind, covered his eyes in embarrassment. Don't worry, it's not the first time.
When you're as soft-spoken as is Sanders, and you're father is Mount St. Helens, you get used to covering your eyes.
"First," Willie said, "I want to say hello to the greatest running back who ever lived."
Pause . . .
"He's not with us today; I think he's back with his family in Los Angeles. He's Mr. Jim Brown and I want to say hello to him."
That was a little punch in Barry's gut, but life goes on.
Willie thanked his wife and Barry's mother, Shirley. And the rest of his sons and daughters, and their husbands and wives and children and grandchildren.
"I want to thank God for all of them," Willie said. "Because this is the reason Barry is here today, because of this supporting cast."
Willie sent out wishes to several friends back in Wichita. You wondered how long his speech might last. Would ESPN have enough time?
Then, abruptly, Willie Sanders cut himself off and introduced his son, the pride of Wichita.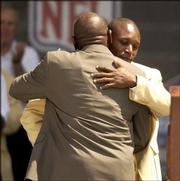 "And now," Willie said, "I want to introduce you to the third-best running back who ever lived, Barry Sanders."
First in Willie's mind is Brown.
Second is himself.
And it's really difficult to tell whether he's kidding.
After the ceremony, Willie Sanders explained himself.
"I wish all my old football coaches were still alive," he said. "But the same thing Barry did to get into the Hall of Fame are the things they benched me for at North back in 1954 and 1955. They wanted me to hit the hole and stay in the hole; they didn't want me running around and improvising. Linwood Sexton (former University of Wichita great) always says I was 20 years before my time."
Willie said Sunday's ceremony wasn't as emotional for him as being in the audience at the 1988 Heisman Trophy ceremony in New York, when Barry won the award.
"I expected this here, but when he won the Heisman I didn't expect it," he said. "That's why there were no tears here today."
Willie has forgiven Barry for leaving football too early. He said they still haven't had a conversation about Barry's retirement.
"It's his life, what can I do about it?" Willie said. "I just know I miss him playing."
Doesn't everybody?
Fellow Hall of Famers Gale Sayers and Lynn Swann mentioned how much they long to see Barry with a football in his arms.
"When I shed a tear because of Barry Sanders' retirement, I think I was probably reminiscing about me and about playing the game," said Sayers, the former Kansas and Chicago Bears great whose NFL career was cut short by injuries. "God gave me a talent and took it away and God gave him a talent and didn't take it away. He quit. And I was so disappointed because of how much I loved watching him run."
During his induction speech, Sanders credited his dad as "truly the reason why I am here."
He told a story about returning punts during a junior varsity game for North during his sophomore year. The game in which he was playing was close, and he felt uncomfortable fielding punts. So he let them roll dead.
On the ride home, Willie asked him about it. Barry told him he didn't want to risk dropping a punt and losing the game.
"He said, 'Son, you can play the game the way it's supposed to be played. Don't be scared to make mistakes. In life you're going to make mistakes.' ... That was some of the best advice I've ever gotten."
A father's love for a son and a son's love for a father can take many shapes.
Barry Sanders expressed his love for his father on Sunday.
In his way.
Willie Sanders did the same for his son.
In his way.
"I feel too good to cry," Willie said.
Copyright 2018 The Lawrence Journal-World. All rights reserved. This material may not be published, broadcast, rewritten or redistributed. We strive to uphold our values for every story published.