Topeka — If demographics are destiny, U.S. Rep. Dennis Moore's political future looks dark.
Moore, a Democrat, has represented the 3rd Congressional District since 1999 despite the fact Republican registered voters outnumber Democrats by a 3-to-2 ratio.
But demographics -- the statistical study of population -- don't take into account a divided Kansas Republican Party and Moore's political savvy.
At a GOP unity rally the day after Tuesday's primary in Overland Park, speakers revved up the crowd by blasting Moore and saying he should be replaced. Their frustration was evident.
But they couldn't tell the party faithful who to replace Moore with, because the GOP primary produced a deadlock between moderate Adam Taff and conservative Kris Kobach. It won't be sorted out until today at the earliest.
'Blown it again'
"The Republicans couldn't get it together," said Larry Sabato, a political scientist and director of Center for Politics at the University of Virginia. "They have blown it again."
Sabato said nothing was certain in politics but predicted Moore would win the general election Nov. 2.
"It doesn't matter which Republican candidate emerges as the winner," Sabato said. "That candidate will be representing a divided party. To defeat an incumbent, all the ducks have to be lined up perfectly in a row. The Republican ducks are all over the street."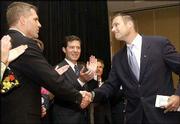 For his part, Moore, seeking re-election to a fourth term, declined to respond directly to the Republican attacks lobbed at him during the rally. Instead, he said he would focus on health care, education and national security and wait to see who the GOP picks to run against him.
Despite the advantage Republicans have in the number of registered voters in the district, Moore said he was able to connect with voters on important issues.
"If they know a person and feel comfortable with that person, they'll vote for that person," he said. "If they don't, they'll vote the party."
Party breakdown
Moore, who served as Johnson County district attorney from 1976 to 1988, describes himself as an independent-minded, moderate Democrat.
The 3rd District includes eastern Douglas County, including parts of Lawrence, and all of Johnson and Wyandotte counties.
Republicans represent about 43 percent of the district's registered voters, Democrats 27 percent, and unaffiliated voters, 29 percent. The remaining voters are registered with minor parties.
Johnson County, the state's most populous county, is where three-fourths of the registered voters in the district reside. In the county, registered Republicans outnumber Democrats 160,772 to 66,540. There are 96,019 voters registered as unaffiliated.
As Republican as the suburban and relatively affluent Johnson County is, Wyandotte County is Democratic, but there are far fewer voters. In Wyandotte County, there are 44,548 registered Democrats, 14,719 Republicans and 23,787 unaffiliated voters.
Closely watched
The portions of the district that include Lawrence and Douglas County have the fewest registered voters but provide the most political balance with 10,566 registered Democrats, 10,197 Republicans and about 12,000 unaffiliated voters.
Johnson County will canvass its 2,979 provisional ballots today and certify results of the 3rd Congressional District election.
Nathan Gonzales, political editor of the nonpartisan Rothenberg Political Report, said that of 435 House races this year, there were 45 competitive contests, and the 3rd District was one of the most closely watched.
"Right now we have this as a toss-up tilting Democrat," Gonzales said. "If the Democrats have any hope of taking over the House, they need to re-elect incumbents like Dennis Moore."
In the House, Republicans hold a 229-205 edge with one independent who usually votes Democrat.
But U.S. Sen. Sam Brownback, R-Kan., said history and voter registration numbers soon would catch up to Moore.
"You look at his margins of victories, and he's never improved on them," Brownback said.
'Luckiest member'
In 1998, Moore upset Republican Rep. Vince Snowbarger with 52 percent of the vote. In 2000 and 2002 he won re-election with just more than 50 percent of the vote.
Brownback said in hotly contested districts, congressional members usually win their first election in a close race, then build their victory margins in succeeding elections. Moore hasn't been able to do that, he said.
"I think what you are seeing here is that Dennis is a fine man, but his philosophy doesn't fit the people," Brownback said.
He said the razor-thin margins between Democrats and Republicans in Congress made the 3rd District a key battleground.
"You have not had a House this closely divided for this many election cycles in 100 years," he said. "Democrats are saying, 'If we ever lose this one, we probably don't get it back,' and Republicans are saying, 'Why don't we win this one?'"
Sabato said Republicans had themselves to blame for Moore's success.
"The Republicans have severely damaged themselves again. Dennis Moore is the luckiest member of Congress," he said.
Copyright 2018 The Lawrence Journal-World. All rights reserved. This material may not be published, broadcast, rewritten or redistributed. We strive to uphold our values for every story published.