St. Louis — One of the players who might have to move to another spot in the St. Louis Cardinals' lineup to make way for Larry Walker helped them finish off the New York Mets.
Edgar Renteria tied his career high with five hits, and the Cardinals handed Al Leiter his worst loss of the year in a 6-2 victory Sunday that completed a three-game sweep.
Renteria has batted second exclusively since July 2, and manager Tony La Russa said he would bat Walker either second or fourth most of the time, although he added "I ain't going to get pinned down."
Walker batted fifth in his first start, but only because Jim Edmonds got a day off.
"I don't care," Renteria said. "I'll do the best I can do in any spot and try to help the team win."
Renteria has batted second ahead of Albert Pujols and Scott Rolen 49 times and sixth 39 times. He was batting .307 with five homers, 28 RBIs and 36 runs scored in 49 games, but likely will drop down to sixth, where he began the season, when everybody plays.
"I've been seeing more fastballs because Albert and Scotty are behind me," Renteria said. "It's a little bit of an advantage, and they don't want me getting on base."
Jason Marquis (12-4) pitched six strong innings to win his ninth straight decision for the Cardinals, who have won 16 of 20 and raised their record to a major-league-best 72-38. Leiter (8-4) said St. Louis' team was comparable to the Yankees.
"They're right there," Leiter said. "Coming out of spring, their lineup would have been considered more of a strength, but their pitching has been very good. I see those teams matching up very well."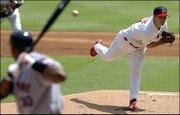 Rolen was 3-for-4 with an RBI, and So Taguchi hit a two-run double for St. Louis, which had 12 hits.
The Cardinals have swept 11 series, nine of three or more games, and are 10-2 against the Mets the last two years.
Walker was 1-for-3 with an opposite-field RBI bloop double, a walk and two strikeouts. He received a standing ovation before his first at-bat, but struck out with a runner on second to end the first.
Giants 6, Cubs 3
San Francisco -- Rookie Noah Lowry (2-0) had another impressive start, and Dustan Mohr made a run-saving diving catch in the warning track dirt in the eighth inning.
Chicago's Kerry Wood (6-5) worked six innings and failed to get a strikeout for the first time in 155 major-league starts.
Phillies 4, Dodgers 1
Los Angeles -- Brett Myers (7-8) pitched two-hit ball for eight shutout innings. Dodgers starter Brad Penny jumped off the mound in pain in the first inning and left because of a strained right biceps. It was just his second outing for Los Angeles since he was acquired in a trade with Florida.
Expos 5, Astros 2
Houston -- Alex Gonzalez and Brian Schneider hit back-to-back homers, and Montreal beat Roger Clemens (12-4). T.J. Tucker (2-1) allowed two hits and struck out three.
Reds 14, Rockies 7
Denver -- Wily Mo Pena homered and had a career-high five RBIs before leaving in the sixth inning because of cramps and dehydration in the Reds' victory. Cory Lidle (7-10) benefited from the offensive surge.
Brewers 2, Marlins 0
Miami -- Chris Capuano (6-6) pitched six shutouts innings, and Milwaukee ended a five-game losing streak.
Pirates 4, Padres 2
San Diego -- Randall Simon hit a go-ahead solo homer in the sixth, and Oliver Perez (7-6) pitched into the seventh inning against his former team.
Braves 11, Diamondbacks 4
Phoenix -- Chipper Jones homered and drove in four runs, leading Atlanta to its fifth straight victory. Russ Ortiz got his 13th win, and Eddie Perez went 4-for-5 with two homers for the streaking Braves, who have won 10 of 11 and 14 of 16. Casey Fossum (2-11) lasted a season-low 31/3 innings, allowing nine runs and eight hits.
Copyright 2018 The Associated Press. All rights reserved. This material may not be published, broadcast, rewritten or redistributed. We strive to uphold our values for every story published.