CANTON, OHIO — John Elway surveyed the sea of blue and orange, heard the cheers, and offered his fans a tribute.
"To all the Broncos fans out there, thank you for everything," Elway said Sunday when he was inducted into the Pro Football Hall of Fame. "And a final Mile High Salute is for every one of you out there."
And there were thousands of them here to watch Elway, Barry Sanders, Carl Eller and Bob Brown bring the Hall membership to 225. Denver is about 1,100 miles from Canton, but that hardly deterred Broncos fans from making the journey and donning their No. 7 jerseys.
Elway was the first Bronco inducted, and the fans chanted his name, cheered every time he was shown on the scoreboard, then listened intently as Elway's daughter, Jessica, 18, told them how her father taught his children to be tough.
Then Elway took the stage for what seemed like a Broncos home game.
"I have to be totally honest, I have never heard that in Ohio before," he said at the beginning of an emotional speech.
"For every guy who ever stepped on the field with me, I accept this honor today on behalf of all of you," Elway said. "Thanks for protecting me, catching my passes, defending our goal line, sharing our highs and lows. And thanks for not losing confidence in me when I lined up for a snap as a rookie behind the left guard."
When he retired after guiding Denver to its second straight NFL title he had led his team to more victories (148) than any quarterback in history. Elway engineered 47 game-winning or tying drives in the fourth quarter or overtime. He threw for 51,407 yards and 300 touchdowns.
He was humbled by the company he was keeping, too.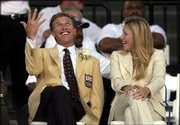 Elway and Sanders each made a mockery of defenses throughout their record-setting careers, while Brown was one of the premier blockers of his era. Eller was a defensive end with the Purple People Eaters in Minnesota.
"I'll call him the best ever to play the game," Elway said of Sanders. "I wish I could have played with Bob Brown, and I am glad I didn't have to play against Carl Eller."
Sanders, a Heisman Trophy winner at Oklahoma State, rushed for more than 1,000 yards in all 10 of his seasons with Detroit. But at 31, he walked away from the game in 1999 and, Sunday, became the third-youngest Hall of Fame inductee, behind Gale Sayers and Jim Brown.
Eller retired in 1979 after 16 NFL seasons. A five-time All-Pro who played in six Pro Bowls and four Super Bowls. Brown made five All-Pro teams and six Pro Bowls playing for the Eagles, Rams and Raiders.
Copyright 2018 The Associated Press. All rights reserved. This material may not be published, broadcast, rewritten or redistributed. We strive to uphold our values for every story published.