It had been a good while since Carey Maynard-Moody saw a crowd more excited than the one Sunday in Lawrence that greeted Democratic vice presidential candidate John Edwards.
"I was at Shea Stadium to see the Beatles" in 1965, the Lawrence resident said after watching Edwards speak to a packed house at Abe & Jake's Landing, 8 E. Sixth St.
With her in the audience were some of estimated 1,000 people who gathered late Friday at the Amtrak station in East Lawrence but had been disappointed about 1 a.m. Saturday when the John Kerry campaign train blew past without saying either hello or goodbye.
"We came Friday night for the train -- caught about 30 seconds of it," said Judy Roberts, who, with her two sons, Jack and Mason, laid claim to the first place in a long line of umbrella-toting Kerry-Edwards supporters waiting outside for admittance to Abe & Jake's.
'The first ones there'
Edwards' speech had been scheduled for Buford M. Watson Jr. Park but was moved inside because of Sunday morning's rain.
"And then when we found out he was coming back," Roberts said, "we got a room here at Super 8 so we could be at the park early. We were the first ones there, too."
Roberts, who lives near Waverly, said she went to Abe & Jake's as soon as she heard the rally had been moved.
"We were at the park at probably 8:30," she said. "I'd guess we were here by 9 or 9:30."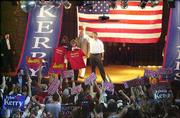 Edwards began speaking shortly before 1:30 p.m.
Despite the rain, scores of people by late morning were streaming into downtown to line up for the rally.
Beneath multicolored umbrellas, a line of people extended from the door of Abe & Jake's at the west end of the Riverfront Plaza, the length of the parking lot and past SpringHill Suites at the mall's east end. The line also extended east on Sixth Street in front of City Hall.
Soaked by heavy rains, Roberts said she was convinced Kerry and Edwards were "more interested in taking care of people" than President Bush.
"Bush keeps saying there'll be a job for anybody who wants to work," Roberts said. "That, to me, sounds like he thinks people who aren't working are lazy, that they don't want to work. That really upsets me."
From across Kansas
Thom Shilling wore a Navy blue T-shirt with white and red lettering that, from a distance, looked like the Bush-Cheney campaign logo. But instead of Bush Cheney 2004, it read "Bush Satan 2004."
"This T-shirt says it all for me," said Shilling, 32, a cook at a Kansas University sorority. "We have a president who literally believes a lot of religious aspects of things, like how, absolutely, there's a heaven and a hell and there's a devil with a pitchfork.
"I just don't know how he can do that when there's supposed to be a separation between church and state. That's my big issue," he said. "He's so on board with the religious right, he scares me."
Many in the crowd drove miles to catch Edwards' speech.
"I thought he was outstanding. Very uplifting," said Bart Lawson, a retired teacher who recently moved to Pittsburg from northwest Oklahoma. He drove to Lawrence shortly after learning of Edwards' plan to return.
"I think what we heard today is that there is hope for the average man and woman all across Kansas," he said. "And I'd like to see that message go out all across the state. Kansas doesn't have to vote Republican."
Rhonda Machlan, of Topeka, she was struck by Edwards' ability to relate to people who are "lower-middle class." It's an ability Bush lacks, she said.
"Cutting brush three weeks in the summer does not put you in touch with people who work for a living," said Machlan, who was wearing a blue "Women for Kerry-Edwards" button.
Melissa Padgett, 29, a clerk at Third Planet Imports, 846 Mass., said she identified with Edwards' comments that most families cannot pay their bills, despite Bush's claim that the economy is improving.
"That really hit home," Padgett said. "A lot of us aren't making the minimum on our credit cards, we're just paying the light bill, the gas and the rent -- here in this town, it's the rent. Somebody like me can't afford a mortgage."
Candidate's kiss
Paul Weidmaier, wearing a ball cap with NAVY on the front in gold letters, said he agreed with Edwards calling the Nov. 2 election the "most important of our lifetime."
"It's everything," said Weidmaier. "It's the environment, the economy. It's the world my kids and grandkids are going to have to grow up in. I can't think of a single issue I agree with Bush on. He's just making a plutocracy out of the country."
Bev Cress got to shake hands with John and Elizabeth Edwards, and her 6-year-old daughter, Victoria Davis, got a quick kiss from the vice presidential candidate. The experience made their drive from Cottonwood Falls to Lawrence well worth it, Cress said. Her daughter, too, was excited and smiling after the kiss.
"She thinks he's just wonderful," Cress said of her daughter's reaction to Edwards.
Brad Wertz, a Lawrence postal worker, also shook the Edwardses' hands. He added that he appreciated Edwards' making a special effort to return to Lawrence.
"I think it's great that he showed up in Kansas," Wertz said.
Copyright 2018 The Lawrence Journal-World. All rights reserved. This material may not be published, broadcast, rewritten or redistributed. We strive to uphold our values for every story published.