Kansas City, Mo. — The Anaheim Angels are finding ways to win, and they're moving up in the AL West standings in the process.
Jose Guillen tied it with a leadoff homer in the ninth, and David Eckstein's suicide squeeze drove in the go-ahead run in the Angels' 6-4 comeback victory over Kansas City on Sunday night.
"In that situation, you never know what he's going to do," Eckstein said of manager Mike Scioscia. "I hadn't been swinging the bat real well the whole series. That was just a perfect time to do that."
Trailing 4-3 heading into the ninth, Guillen hit a towering 423-foot shot off Nate Field.
Then, with the bases loaded and one out, Eckstein followed with a bunt between first base and the pitcher, and Darin Erstad -- who broke for home on the pitch -- scored to make it 5-4. Reliever Dennys Reyes fielded the ball and threw it past first, allowing Adam Kennedy to score on the error. Eckstein was credited with a hit and an RBI on the play.
"The key was Erstad got a really great jump," Eckstein said. "It's really tough with the bases loaded. It allowed me to worry about just getting the bunt down instead of placing it."
The Angels are tied for second in the AL West with Texas, 11/2 games behind Oakland.
Brendan Donnelly (4-2) pitched a perfect 11/3 innings in relief for the win. Francisco Rodriguez pitched the ninth for his eighth save in 14 opportunities.
Field (2-3) gave up three runs, two earned on one hit in one-third of an inning.
"I basically come in and lose the game," Field said. "The first pitch to Guillen was a pretty good slider. I tried to come back with another, and it wasn't too sharp. He caught it just right, and it went out of the ballpark."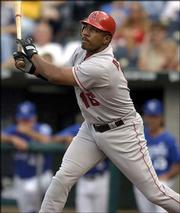 Angels starter John Lackey, who left the game down a run, was happy his teammates bailed him out.
"I was terrible," he said. "Somehow we stayed in the game. Guys got some big hits for us. It's huge just to get a win. We're in a close race, and every game counts a lot."
Mike Sweeney went 3-for-4 with an RBI double in the seventh that scored Alberto Castillo to give the Royals a 4-3 lead.
Castillo led off with a walk, advanced to second on a sacrifice by David DeJesus and moved to third on a deep fly to center. Sweeney then drove in Castillo.
Anaheim wasted little time in getting to Royals starter Mike Wood, scoring two runs in the first.
After Eckstein popped out to short, Chone Figgins singled. Vladamir Guerrero followed with a walk before Garret Anderson blooped a ball down the left-field line that was out of reach of three Royals fielders and fell in for a double that scored Figgins. Guerrero came in on Guillen's sacrifice fly.
"We realize the impact that Jose Guillen has had on our ballclub," Scioscia said. "A lot of attention is given to Vlad and rightfully so because he is the type of player who makes everybody better. But without Jose's input, we would not be in this as much as we are."
The Royals got a run back in the bottom of the first when DeJesus led off with a sharp single to center, stole second, moved to third on a groundout by Joe Randa and scored on Sweeney's single back up the middle.
Sweeney tied it in the third with his 21st home run into the Angels' bullpen in left field. It moved him into a tie with Frank White for fourth place on the Royals' career home runs list with 160.
The Angels regained the lead on Eckstein's sacrifice fly in the fifth. Robb Quinlan and Adam Kennedy reached on infield hits to start the inning. Josh Paul sacrificed the runners before Eckstein flied out to deep center.
The Royals tied it in the bottom of the inning on Randa's RBI single.
Wood allowed three runs and five hits in 7 2/3 innings. He walked one and struck out two.
Lackey gave up four runs and 11 hits, struck out four and walked one in 6 2/3 innings.
Notes: Guillen took the team lead with his 87th and 88th RBIs. Guerrero has 86. ... Quinlan extended his hitting streak to a career-high 19 games, the longest active streak in the majors. ... DeJesus extended his hitting streak to a career-best nine games.
Copyright 2018 The Associated Press. All rights reserved. This material may not be published, broadcast, rewritten or redistributed. We strive to uphold our values for every story published.