Area runners packed the track at Free State High early Saturday morning for the start of the third annual Crosstown Unity Run.
They reconvened 10 kilometers later at the finish line on the track at Lawrence High to celebrate the completion of the most successful Unity Run yet.
A record field of 311 runners participated in the 10K, 10K relay and one-mile run/walk events. About $7,000 -- also a record figure -- was raised and will be split between the two city schools' running programs to supplement budget shortfalls.
"There's not a lot of money in (high school running) at all," said D.J. Hilding, a former LHS distance runner and a senior-to-be on the KU track team. "The fact that we can get the two schools together for this makes it really important. It's a friendly rivalry, too, so once the season hits there's that camaraderie that goes into it. I wish we would've had it back when I was running."
The race raised about $5,000 each of its first two years. Recent Free State graduate Kelsey Randall, a former track and cross-country runner, said the athletes saw the benefits of the fund-raising efforts first-hand in things like new uniforms, warmups and team tents.
"All of the money helps," she said, "Because a lot of times cross country is just overlooked when it comes to athletics and funds. This definitely helps a lot."
Clear skies and cool morning temperatures were ideal conditions for fast times. Hilding blazed the course -- which began at Free State and weaved through town, crossing the Kansas University campus before the finish at LHS -- in record time at 33:38.22. Former Lions Dylan McClain and Andy Struble placed second and third.
Former Emporia State distance standout Michelle Hein was the women's overall winner in 39:17.50. Former Firebird Mallory Richardson was second, and FSHS junior Alysha Valencia placed third.
Most of the participants were current or former local runners or parents of runners.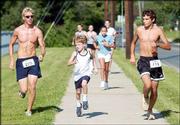 Former LHS runner and recent KU graduate Nate Rahmeier was among the alumni participants. He used the race as part of his training for the Chicago Marathon in October, but he also wanted to support his former high school team.
"Because I ran at Lawrence High, I know a lot of the kids that are still there. Plus my brothers have been going there also," said Rahmeier, who was the fourth overall finisher in 35:37.02.
"It's always good to come out and run with the kids who are current runners and also some of the alumni that I used to run with."
Copyright 2018 The Lawrence Journal-World. All rights reserved. This material may not be published, broadcast, rewritten or redistributed. We strive to uphold our values for every story published.