Baghdad, Iraq — Fierce battles between U.S.-led forces and militants loyal to a radical cleric spread Friday, causing a mounting casualty toll and confronting Iraq's new U.S.-backed interim government with its most serious test yet.
Clashes over the last two days have left scores of people dead, 20 of them in Baghdad alone. U.S. military officials said that as many as 300 militants were killed in the Shiite Muslim holy city of Najaf, where anti-American cleric Muqtada al-Sadr is based. Al-Sadr's deputies disputed that figure, estimating that about three dozen members of his Al Mahdi militia had died.
Assailants killed three U.S. servicemen, one in the capital and two in the south of the troubled country, the U.S. command said today.
Two Marines from the 11th Marine Expeditionary Unit were killed Friday "as a result of enemy action" in Najaf, the military said in a statement. In western Baghdad, an insurgent fired a rocket-propelled grenade at a patrolling U.S. vehicle, killing one soldier, the military said. The names of those killed were withheld pending notification of next of kin.
From Najaf, the conflict spread south to the cities of Amarah, Nasiriya and Basra and north to Baghdad, where more confrontations erupted in the Sadr City slum and gunfire ricocheted through the Shulla neighborhood, another Shiite stronghold. U.S. troops hastily clamped a dusk-to-dawn curfew on Sadr City on Friday evening.
Further complicating the prospects of calming Shiite-dominated southern Iraq, the country's senior cleric, Grand Ayatollah Ali Sistani, left Najaf and arrived in London on Friday for treatment of an unspecified heart condition. Sistani, 73, a voice of moderation among Iraq's Shiite majority, wields great influence.
"We are waiting for an assessment," Sistani's representative in London, Jaffar Bassam, said after the cleric arrived with a team of doctors. "We will know what treatment he will need hopefully as soon as the medical team gets to work. Then we can make decisions."
Sistani was critical of the U.S.-led occupation and has pushed for early, direct elections. But his relatively cautious statements and condemnation of violence have contrasted sharply with al-Sadr's confrontational tactics.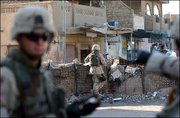 In Najaf, where a rain of bullets, rockets, shells and bombs had residents cowering in their homes, al-Sadr issued a sermon Friday denouncing the United States as "the greatest of Satans" and rallying his forces. "The Iraqi president says that America is our friend. I tell you, America is our enemy," the Al Arabiya satellite TV channel quoted him as saying.
Copyright 2018 The Lawrence Journal-World. All rights reserved. This material may not be published, broadcast, rewritten or redistributed. We strive to uphold our values for every story published.