Najaf, Iraq — Heavy clashes erupted in this holy city Thursday between Iraqi and U.S. forces and followers of radical cleric Muqtada al-Sadr, shattering a two-month cease-fire and inciting his militia to rise up in three other cities.
The battles in Najaf killed two U.S. troops, five Iraqi police officers, several civilians and at least a dozen al-Sadr militants. Amid the fighting, the cleric put out a call to arms, urging his supporters to "confront this infidel enemy."
The clashes marked the fiercest fighting in southern Iraq since May, when U.S. troops began negotiating an end to a standoff with al-Sadr that had crippled the cities of Najaf and Kufa and fueled unrest and anti-American sentiments among the nation's large Shiite Muslim population.
Thursday's violence followed insurgent attacks Wednesday in the northern city of Mosul that left 22 people dead. The renewed street battles -- the worst since the interim Iraqi government took power June 28 -- present a major security challenge to interim Prime Minister Iyad Allawi, a tough-talking Shiite leader whose political future depends upon his ability to bring peace to his restive country.
Thursday's U.S. casualties included a soldier with the 13th Corps Support Command, who was killed when his convoy was attacked with rocket-propelled grenades and small-arms fire outside Najaf, and a Marine who died in fighting in the city. Three other Marines were wounded.
The crew of a UH-1 Huey helicopter downed by insurgent fire was rescued with only injuries, military officials said. Among the Iraqi dead, one was an ambulance driver hit by a mortar that fell on his vehicle.
U.S. military officials said al-Sadr's Al Mahdi army started the fighting early Thursday with two attacks on Najaf's main police station. After the second attack, Iraqi police requested help from American forces.
By late morning, there were attacks on the governor's office and several checkpoints. After al-Sadr's forces launched a barrage of more than 30 mortars at U.S. and Iraqi positions, the Americans said, a U.S. F-15 jet dropped two satellite-guided bombs on a cemetery where militia members had retreated.
Representatives from al-Sadr's office in Najaf accused U.S. forces of breaking the cease-fire first by swarming around the cleric's house earlier this week.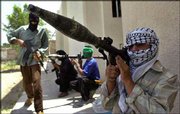 "From this aggression it is obvious that America did not come to Iraq except to fight Islam and the Muslims," a statement released by al-Sadr's office in Najaf said. "We appeal to all the believers and the Mahdi army in particular to confront this infidel enemy."
In outbreaks similar to those seen this spring, al-Sadr followers around the country promptly obeyed al-Sadr's call to arms.
Copyright 2018 The Lawrence Journal-World. All rights reserved. This material may not be published, broadcast, rewritten or redistributed. We strive to uphold our values for every story published.