St. Petersburg, Fla. — It took just one swing for Toby Hall to break out of a lengthy slump.
Hall snapped an 0-for-18 skid with his first career grand slam in the seventh inning, and the Tampa Bay Devil Rays held on for a 5-4 comeback victory over the Boston Red Sox on Wednesday night.
"I was just trying to get it done," Hall said. "Just trying to drive some runs in."
With Tampa Bay trailing 4-1, Hall hit a 1-2 pitch with no outs from Bronson Arroyo (4-8) into the left-field seats to put the Devil Rays ahead for their second win in nine games against Boston.
"It's big for us," Hall said. "The Yankees and Boston, they're loaded."
The Devil Rays are 6-17 against the Red Sox and Yankees this season. Against everyone else, they are 45-39.
"Boy, it's nice to beat Boston," Tampa Bay manager Lou Piniella said. "It's hard to beat these guys and their neighbors to the south."
The Red Sox are 43-42 since starting the season 15-6, and trail wild-card leader Texas by 11/2 games.
Travis Harper (3-2) worked a scoreless inning for the win. Jesus Colome struck out Orlando Cabrera and Manny Ramirez in the eighth before Danys Baez recorded four outs for his 23rd save in 25 chances.
But Baez had to sweat through the ninth, when Boston had the tying run thrown out at the plate.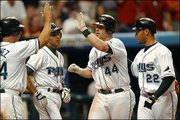 Kevin Millar hit a leadoff single, and pinch runner Dave Roberts advanced to second on a passed ball by Hall. Doug Mientkiewicz followed with a single to center, and Roberts tried to score but was thrown out at the plate by center fielder Rocco Baldelli.
"A lot of stuff has to go your way to beat a team like this," Baldelli said.
Baldelli tumbled to the ground after making a perfect one-hop throw.
"To make a throw like that is pretty impressive," Roberts said. "I thought I had a shot. Unfortunately, Rocco made a great throw."
Mientkiewicz, who went to second on the throw, advanced to third on a groundout, and Gabe Kapler was hit by a pitch before Baez coaxed Johnny Damon to pop out to first for the final out. Arroyo (4-8) allowed five runs and six hits over seven innings in the loss.
Yankees 8, Athletics 6, 11 innings
New York -- Gary Sheffield hit a tying homer in the ninth inning, and Alex Rodriguez's two-run shot in the 11th gave New York a victory over Oakland. Eric Byrnes hit a three-run drive for one of three homers by the A's, who tagged Esteban Loaiza for five runs in his Yankees debut. But New York rallied against the Athletics' bullpen, sending Oakland to only its second loss in 11 games.
With the Yankees trailing 6-4 in the ninth, Derek Jeter blooped a one-out single to right off closer Octavio Dotel. Sheffield then sent a 1-1 pitch over the left-field fence to tie it, bringing a huge roar from the crowd of 47,885. It was Dotel's third blown save in 11 chances with the A's since he was acquired from Houston.
Indians 14, Blue Jays 5
Toronto -- Travis Hafner homered twice and tied a career high with six RBIs, and Cleveland ended a four-game losing streak with a victory over Toronto. Casey Blake went 5-for-6 to match a career high for hits as the Indians tied their season best with 21 hits. Cleveland also had 21 hits, including eight home runs, on July 16 at Seattle.
The Indians moved back to .500 with the win (54-54). They were a season-high three games over .500 when the skid began. Hafner, who was 4-fo-5, also had six RBIs on July 20 at Anaheim. It's the seventh time this season he's had four or more RBIs in a game.
Orioles 6, Mariners 3
Baltimore -- Rafael Palmeiro singled in two runs to snap a seventh-inning tie, and Baltimore handed Seattle its sixth straight loss. Brian Roberts also had two RBIs for the Orioles, who completed their first three-game home sweep of the Mariners since May 1997.
Randy Winn homered, and Ichiro Suzuki had three hits for the Mariners.
Rangers 8, Tigers 0
Detroit -- Mike Bacsik gave up four hits over seven innings in his Texas debut, and Laynce Nix hit a two-run homer to lead the Rangers over Detroit. Texas won its second straight game after losing five of seven. Detroit lost its third straight and was shut out for just the second time this year, the first since April 15.
Bacsik (1-0), who signed with Texas in December, struck out four and walked none. He became the 14th pitcher to start for Texas this season, the eighth who spent time in the minor leagues.
Twins 6, Angels 3
Minneapolis -- Justin Morneau homered for the second straight night, a drive on the first pitch of the sixth inning that sparked Minnesota past Anaheim. Torii Hunter followed Morneau with a double, then Jacque Jones hit a two-run homer to break it open for the Twins -- who have won 13 of 15. Combined with Chicago's loss, Minnesota opened a season-high six-game lead in the AL Central. Vladimir Guerrero homered for the Angels.
Copyright 2018 The Associated Press. All rights reserved. This material may not be published, broadcast, rewritten or redistributed. We strive to uphold our values for every story published.