Talk about something being too pretty to eat.
Christine Caffey's 10-inch-round, fondant-icing-covered decorated cake looks like it came right out of "Martha Stewart Living."
If the legally challenged domestic diva could see Christine's sweet creation, she'd surely deem it "a good thing."
Christine, 14, a member of the Lone Star 4-H Club, won a purple grand champion ribbon during last week's Douglas County Free Fair in the 12-to-14-year-old division of the "Cooking for Fun" category.
Christine's cake, which she says took about 25 hours to create, will have people doing double takes.
It features a remarkably detailed tableau of bears sitting down to enjoy a colorful picnic lunch -- all handcrafted of fondant icing, the fancy kind often used for deluxe wedding cakes.
Atop a powder blue fondant tablecloth, the lucky bears prepare to consume a feast: hot dogs, cheese wedges, hamburgers, pepperoni pizza, tacos, potato chips, brownies, french fries, strawberries, grapes, carrots and a cake of their own.
But that description barely does justice to Christine's handiwork, a marvel of detailed precision worthy of a fine watchmaker.
There's a squiggle of mustard on the tiny hot dogs, and poppy seeds dotting the hamburger buns, which rest atop slices of tomato and lettuce.
There are little circles of pepperoni on the make-believe pizza, and a fine dusting of powdered sugar on top of the brownies.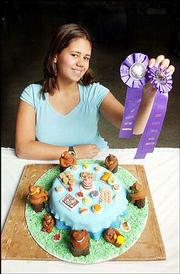 All of it made of individually dyed bits of fondant icing.
Christina, a ninth-grader at Bishop Seabury Academy, offers the following advice to others who want to attempt to create a decorated cake like hers.
"It will get frustrating, but don't give up. You'll be making something and you'll run out of colors, or a head will fall off one of the bears and you have to get it to stay on again," says Christina, the daughter of Lawrence residents Jeff and Debbie Caffey.
Relishing canned goods
Christina isn't the only 4-H member who cooked up food entries for judges to admire or sample at the weeklong fair, which ended Sunday.
Jonathon Berg, 16, made a pineapple salsa that took a pink reserve ribbon in the 15-to-19-year-old division of food preservation; his pickled mixed vegetables won a purple champion ribbon in the same category.
Jonathon, son of Lawrence residents Doug and Mary Berg, has been a member of the Lone Star 4-H Club for about nine years. He'll be a junior at Lawrence High School this fall.
"It's just a regular salsa that we made at home, and we added a can of crushed pineapple. It has a spicy taste to it, with the sweetness of the pineapple," Jonathon says of one of his canned entries.
"Every year we make homemade salsa. When you first start out doing it (canning), it's hard, but then it gets easier. It's fun, but it gets hot during the summer in the kitchen."
His canned mixed vegetables have cauliflower, carrots, onions and peppers.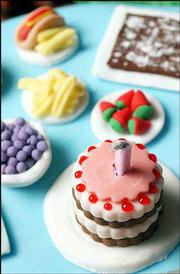 Jonathon learned how to can from his mother.
"Mainly all we do is we mix the ingredients that my mom has (from her own garden), then we have to seal it in the can by boiling it in water for about 10 minutes. Then we just take it out and let it sit for a while," he says.
"We keep it in our basement, then we can eat it in the winter. We give a lot to family and friends -- homemade salsa, zucchini relish."
Bringing your best
A peer of Jonathon's, Michael Krumm, offers more proof that cooking isn't the sole domain of 4-H girls.
Michael, 15, won a champion ribbon at the Douglas County fair for the German's Sweet Chocolate Cake he entered in the 15-to-19-year-old division for nonperishable food.
Michael, a member of the Lone Star 4-H Club for nine years, brushes aside any compliments about the cake.
"It wasn't really as challenging as I thought it would be. If there are any imperfections in the cake, you can cover them up with the frosting, which is really thick," he says.
"But I couldn't get the texture (of the coconut-flecked icing) the way the cake should look. You don't want it to be flat; it should be kind of spiky."
Michael, a sophomore at Lawrence High School, has baked nearly all his life -- thanks to the influence of his mom, Susan Krumm. She's an Extension agent in food and consumer sciences with K-State Research and Extension-Douglas County.
Michael's German's Sweet Chocolate Cake isn't his first award winner at the fair. He's been taking home ribbons for his baking -- for entries like pistachio bread and baklava -- since he became a 4-H member at age 7.
"There's a lot of competition, a lot of people are good cooks in this county. You have to bring your best to the table," he says.
Copyright 2018 The Lawrence Journal-World. All rights reserved. This material may not be published, broadcast, rewritten or redistributed. We strive to uphold our values for every story published.