New York — Scott Hatteberg delivered the biggest hits. Mark Mulder threw his share of quality pitches. Jermaine Dye and Bobby Crosby made the key plays.
All in all, a complete game for the Oakland Athletics.
Hatteberg homered twice, drove in five runs and made a nifty slide to score while Mulder hung on for his major league-leading 15th win, leading the streaking Athletics over the New York Yankees, 13-4, Tuesday night.
"The defense was outstanding, and we had a lot of good at-bats," A's manager Ken Macha said. "I don't think Mark had his best stuff."
Jorge Posada and Gary Sheffield hit early home runs that put New York ahead 4-1, but the A's stormed back to win for the ninth time in 10 games in a matchup of AL division leaders.
"They jumped on Mark pretty quick, and that's rare," Hatteberg said.
Mulder (15-3) won at a ballpark where he's usually struggled -- he was 0-4 with a 9.97 ERA at Yankee Stadium in the regular season, though he was 1-1 at New York in the 2001 playoffs.
Mulder was off to a shaky start this time, too, when Posada hit a three-run homer in the first inning and Sheffield lined his 24th shot in the third.
Mulder settled down and lasted seven innings, winning for the 13th time in 14 decisions.
"I was just struggling with my delivery in the early innings. Every night is different. Some starts you feel great. Tonight, I didn't," Mulder said.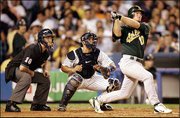 "We won the ballgame. I don't care what my record is."
AL player of the week Eric Byrnes got three more hits, and Adam Melhuse also homered for Oakland. Melhuse got into the game in the second inning after catcher Damian Miller's left knee was bruised by a foul ball.
It was 4-all in the fourth inning when the Yankees put two runners on with two outs, and Derek Jeter followed with drive toward the right-field corner. Dye nearly overran the ball, but reached back as he jumped at the wall to take away an extra-base hit, leaving his spike marks in the padded fence.
"I just made a lucky grab," he said.
As Dye ran off the field, Jeter joked around with him.
"He said, 'Let me get a hit,' or something," Dye said.
Earlier in the inning, Crosby made a diving catch to start a double play. In the fifth, the rookie shortstop made two neat plays on consecutive grounders to throw out Posada and Hideki Matsui.
Red Sox 5, Devil Rays 2
St. Petersburg, Fla. -- Curt Schilling pitched a six-hitter for his third complete game of the season, and Jason Varitek hit a two-run homer, leading Boston over Tampa Bay. Schilling (13-5) struck out seven and walked one in his 82nd complete game, improving to 3-0 at Tampa Bay, with two of the wins this season. Varitek made it 3-0 with a two-run homer in the fourth, and Bill Mueller drove in three runs for the Red Sox.
Rangers 5, Tigers 4
Detroit -- Mark Teixeira and Kevin Mench homered, and Eric Young hit a tiebreaking RBI single in the seventh inning to lead Texas over Detroit. Young went 3-for-5 for the struggling Rangers, who won for just the third time in 10 games. Frank Francisco (3-1) pitched 11/3 perfect innings in relief of Kenny Rogers, who failed in an attempt to become the American League's second 14-game winner.
Orioles 9-5, Mariners 7-4
Baltimore -- Rafael Palmeiro passed Babe Ruth on the career hits list, and Baltimore beat Seattle, 5-4, to complete the first doubleheader sweep against the Mariners in 16 years. In the opener, Palmeiro drove in three runs, and Javy Lopez hit a three-run homer, leading Baltimore to a 9-7 victory. After going 2-for-3 in the day game to tie Ruth for 36th place, Palmeiro moved past the Bambino in the night game with his 2,874th career hit, a fourth-inning single to right off Jamie Moyer.
Blue Jays 7, Indians 6
Toronto -- Pinch-hitter Frank Menechino drew a bases-loaded walk to drive in the go-ahead run in the eighth inning after Carlos Delgado hit a tying two-run homer in Toronto's victory over Cleveland. Down 5-3, Toronto sent 10 to the plate in the eighth and scored four times to take the lead. Justin Speier (3-6) allowed one hit in a scoreless eighth for the win. Rookie Jason Frasor allowed an RBI groundout by Matt Lawton before finishing for his 14th save in 15 chances.
Twins 10, Angels 0
Minneapolis -- Backed by sound defense and a burst of power, Carlos Silva pitched his first career complete game and shutout to lead Minnesota over Anaheim. The Twins hit four home runs and turned a season-high five double plays, winning for the 12th time in 14 games and handing the Angels just their second loss in seven games. Torii Hunter homered to left, Jacque Jones singled, and Corey Koskie homered to right on consecutive pitches.
Copyright 2018 The Associated Press. All rights reserved. This material may not be published, broadcast, rewritten or redistributed. We strive to uphold our values for every story published.