More than 1,600 people want to give Marguerite Ermeling a shot at running for Douglas County Commission.
Ermeling, a Lawrence veterinarian, filed petitions Monday morning with more than 1,650 signatures from Douglas County residents who say they are registered voters living in the commission's 3rd district. The district covers much of western Lawrence and western Douglas County, including Lecompton.
If at least 767 of the signatures are certified by the county clerk's office -- a finding expected to be handed down by noon Thursday -- Ermeling's name would appear alongside incumbent Commissioner Jere McElhaney's on the general election ballot Nov. 2.
Ermeling counted on 52 volunteers to collect the signatures, with much of the help coming from folks affiliated with organized groups.
"It's been an extraordinary effort, a monumental effort, to get all these signatures," said Ermeling, who lives near Lecompton. "It's a testimony to the power -- the potential power -- of neighborhood associations, and rural community associations, in effecting what they'd like to see done in their areas. ... It's phenomenal."
Ermeling, owner of Gentle Care Animal Hospital at Sixth Street and Kasold Drive, decided in March to challenge McElhaney's standing as an unopposed candidate. At the time, Ermeling bristled at McElhaney's support of plans for a proposed industrial park northeast of the Farmer's Turnpike and the South Lawrence Trafficway, near the Lecompton interchange of the Kansas Turnpike.
McElhaney's support came despite organized opposition from the Scenic Riverway Community Assn., a collection of nearby residents that includes Ermeling and her husband, Jim Baggett.
Ermeling, 53, said that she was continuing to refine her campaign issues, but three remain at the forefront: giving property owners a voice in rural planning, taking a regional approach to transportation issues, and boosting efforts to generate jobs.
Among her specific goals: Support a drive to build a major road east of Lawrence, running south from U.S. Highway 24-40 to Kansas Highway 10 and, ultimately, back west to U.S. Highway 59. The road would have interchanges at each highway, including the Kansas Turnpike.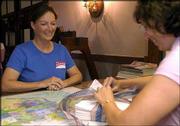 The road would be an engine to improve traffic flow and keep up with population growth in Tonganoxie, Eudora and other areas between Lawrence and the Kansas City metro area.
"I want to make our thinking more global," Ermeling said.
Copyright 2017 The Lawrence Journal-World. All rights reserved. This material may not be published, broadcast, rewritten or redistributed. We strive to uphold our values for every story published.