Edgar Manuel calls Lake Charles, La., home, but he can't remember the last time he was there.
That's the life of a carnival worker.
"I know it wasn't last year," Manuel said, trying to recall when last he saw Lake Charles. "I didn't get off the road at all last year."
In fact, he is hard pressed even to explain why he still calls the Louisiana city home. He doesn't own or rent a house, trailer or anything else. Instead, he spends his nights in a carnival "bunkhouse," a trailer that looks like a camper but has eight or 12 individual sleeping rooms.
That's been Manuel's life for the past 25 years. He was 15 when he hit the road with family members working for a carnival. Now, he wouldn't have it any other way.
"You get to travel and see the country and you don't have to pay for it," said Manuel, in town last week with the Murphy Brothers Exposition crew running the carnival at the Douglas County Free Fair. "They have to pay you."
Sleepless nights
A longing to see the country is a common reason people choose the carnival life, said Michelle Murphy, whose family owns Murphy Brothers. The company has about 120 people who either work for the company or as independent contractors running game booths and concession stands attached to the carnival. At the Douglas County Free Fair, the company had a crew of about 35 people to staff 15 rides and 20 games.
"There's a lot of free spirits out here," said Murphy, who works in the company's traveling office.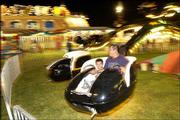 Count Bill Bowley among that crowd. He started working for the Murphys after "doing a little bit of everything," including landscaping and construction work.
"I wanted to travel around," said Bowley, a game booth operator. "I like places. I have been on the East Coast and the West Coast, but I had never really been in the middle. I thought this would be a good way to see it."
Tulsa, Okla.-based Murphy Brothers operates carnivals mainly in the Midwest, but does events as far away as Florida. It operates at an estimated 10 state fairs, 20 county fairs and 20 smaller festivals every year, Murphy said. She said the company owned about 75 rides ranging in price from $50,000 for rides for small children to roller coaster devices that are worth more than $1 million.
But a sense of wanderlust isn't the only requirement to be a successful carnival worker, Manuel said.
"You've got to be a free spirit, but you've got to be one with a lot of muscles," he said.
The hardest part of the job is setting up and tearing down the equipment. When the carnival closed its gates at 10 p.m. Saturday, crews worked for about 12 hours to disassemble the equipment, load it, haul it and get it set up at the Wyandotte County Fair in Kansas City, Kan.
"We do it all without any sleep," Manuel said. "That's the thing about this job, you really have to like to be out here because it ain't like a regular job. There's a lot of long hours."
Most of the time, it is rewarding work, Murphy said.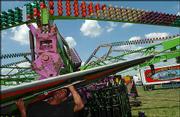 "It is definitely a lot of work, but when you see all the kids smiling when they're out here, it is worth it," she said.
How's the pay? The answer seems to vary.
Murphy Brothers employees said pay ranges varied from about $225 per week to a few employees who make near $1,000 per week. Game and concession operators generally don't receive a salary, but rather take home a percentage of the money their booths generate.
According to a 2003 survey by the Division of Wage Determination of the U.S. Department of Labor, carnival workers in the Kansas area earned minimum wages ranging from about $8 an hour to $12 an hour depending on the type of work they did.
Murphy Brothers charges $1 per ticket, with several rides requiring multiple tickets to ride. It also must give a percentage of each ticket sold to the Douglas County Fair Board, which uses the money to fund the fair's operations. Fair board members said they didn't have an estimate of how many tickets would be sold this year, and they said past years' totals were not readily available.
Tough times
The carnival business, though, is not as much fun as it used to be, Murphy said.
Her company's profits had taken a hit with diesel fuel, which powers electric generators to run the rides and concessions, near record high prices. In its first two days of operation in Lawrence, the carnival used $1,200 worth of fuel.
"It is almost costing us more to take our rides on the road right now than if we just never turned them on," Murphy said.
The price of insurance has increased by about 20 percent during the past five years, she said. And increased competition from theme parks has cut down on ridership at some fairs, although the number of fairs across the country remained fairly steady.
According to the Outdoor Amusement Business Assn., a trade group, there are about 400 carnival companies that travel throughout the United States. It also said about 350 million people annually visited a carnival.
Maybe, Murphy said. But she doubted the industry would be that large in the next two to three years, although she said she was optimistic her 58-year-old family business would weather the storm.
"It is getting really rough though," Murphy said. "I think the industry will have to shrink down tremendously."
The economic slump already has affected the Murphy's operations. Up until this year, the company operated a traveling school for the children of carnival workers. It had one teacher and about 15 students, but cost concerns caused the company to discontinue it.
The decision has made life on the road less enjoyable for Murphy because her 8-year-old and 6-year-old sons soon will live with their grandmother so they can attend school. She said that was sad because one of her most enjoyable parts of the carnival lifestyle was being able to take her sons to visit museums, zoos and other attractions in the cities they temporarily called home.
"That's going to be tough, but other than that, I can't really think of anything I would change," Murphy said. "Anymore, I don't think I could handle a 9 to 5 job. I would get too bored."
Copyright 2017 The Lawrence Journal-World. All rights reserved. This material may not be published, broadcast, rewritten or redistributed. We strive to uphold our values for every story published.