Police were searching for two men Thursday night after a reported shooting in North Lawrence.
A woman called police about 7:20 p.m. saying she had been shot. Police found her in her maroon van near Sixth and Vermont streets, where she drove after the shooting.
The woman was transported to Lawrence Memorial Hospital. No further details about her identity or condition were available late Thursday.
Around the time of the woman's call, several people reported to police that they heard three shots near Seventh and Locust streets. There, police found a white Pontiac Grand Am askew in the street, surrounded by shattered glass.
A witness later told police she had seen a black man flee the car. The witness described the man as 5-foot-10, 180 pounds, wearing a dark sweatshirt, dark pants and a mustache.
Police also were searching for a white man with long, dirty-blond hair who was described as heavyset and reported to be wearing a red baseball hat and a white shirt with blue and red writing.
Lt. Stephen Zarnowiec of the Lawrence Police Department said a team was investigating the area near Seventh and Locust streets as a possible crime scene. He said it was too early to define the two men as suspects.
Residents near Seventh and Locust streets watched as a state trooper, several unmarked cars from the Douglas County Sheriff's Office and several Lawrence police canvassed the area between a set of railroad tracks and near several buildings that appeared to be vacant.
Police said the people of interest to police were last seen near Seventh and Elm streets about the time of the incident.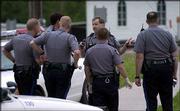 Copyright 2018 The Lawrence Journal-World. All rights reserved. This material may not be published, broadcast, rewritten or redistributed. We strive to uphold our values for every story published.