New York — Derek Jeter jumped on Barry Zito's first pitch of the game and sent it flying deep to left-center field when a disturbing thought suddenly entered his mind.
"I thought, 'Don't catch it!'" Jeter said. "I thought a bird would hit it or something and someone would catch it."
But this ball was out of everyone's reach as the Yankees shortstop broke out of an 0-for-32 slump with a leadoff home run and helped New York complete a three-game sweep of the Oakland Athletics with a 7-5 victory Thursday night.
"A streak like that, you wouldn't want to wish on anyone, even other teams," Jeter said. "Guys on other teams even have been giving me support."
Jeter started what turned out to be an impressive power display against Zito, who gave up a career-high four home runs. Miguel Cairo hit a tiebreaking three-run homer, and Bernie Williams and Alex Rodriguez also went deep as the Yankees won their third straight.
"We're looking more like ourselves now -- more relaxed," manager Joe Torre said.
The A's went winless at Yankee Stadium despite starting aces Tim Hudson, Mark Mulder and Zito, and have lost six in a row.
"I had sharpness, and the curveball was good and the changeup was good," Zito said. "I think it was just that they didn't miss anything."
And Jeter certainly didn't miss the former Cy Young winner's first pitch.
Jeter drove his first homer of the season well over the left-center field fence and into Monument Park for his first hit since an infield single against the Chicago White Sox on April 20.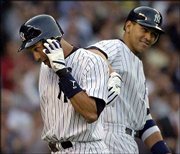 It was the longest slump by a Yankees player since Jimmy Wynn also went 32 at-bats without a hit in 1977.
"You can't help but think about it," Jeter said. "That's all you hear about all the time."
Jeter, who finished 1-for-4, pumped his fist slightly after he rounded first base, and the Yankee Stadium crowd of 35,651, which stood and cheered as Jeter came up, chanted "Jeter! Jeter!" as he crossed the plate. His teammates greeted him at the top of the dugout and high-fived the shortstop, who came out for a curtain call.
"When Derek came in after the homer, he kind of headbutted me in the chest," Torre said. "It was a big relief of all the pressure."
The homer cut New York's deficit to 2-1 after Eric Chavez hit a two-run homer in the top of the first.
With the game tied at 3 in the sixth, Cairo hit his first homer as a member of the Yankees -- a shot into the left-field seats. Gary Sheffield hit a leadoff single and Hideki Matsui singled one out later. After Ruben Sierra struck out, Cairo homered to give the Yankees a 6-3 lead, and came out for a curtain call.
"Yankee Stadium -- that was the best, man," Cairo said. "It was just amazing."
The A's made it 6-4 in the seventh on Damian Miller's RBI grounder. Oakland scored another run in the eighth when Jermaine Dye hit a one-out single off Tom Gordon that scored Billy McMillon, who doubled.
Mariano Rivera came on in relief of Gordon with two outs and runners on first and third and got Bobby Crosby to ground out to second. Rivera earned his seventh save in as many chances.
White Sox 6, Blue Jays 4
Chicago -- Esteban Loaiza stayed unbeaten as Chicago rallied for five runs in the sixth inning and beat Toronto. Loaiza (4-0) ran his career record in April to 18-3, including 10 straight victories in that month dating back to 2001 when he pitched for Toronto.
Loaiza went six-plus innings, allowing seven hits and four runs. After Neal Cotts struck out three in two innings, Billy Koch pitched the ninth for his second save.
The Blue Jays fell to 7-15 to match the franchise's worst record after 22 games.
Chicago's Magglio Ordonez hit his seventh homer leading off the sixth.
Angels 12, Tigers 3
Detroit -- Vladimir Guerrero homered and Anaheim had an eight-run fourth inning. Guerrero also doubled and singled twice in five at-bats, helping the Angels win for the fifth time in their last six games.
The Angels scored seven of eight runs in the big inning off Detroit starter Nate Robertson (1-1).
Jarrod Washburn (4-1) pitched eight innings for the victory, allowing three runs and nine hits. He struck out six and walked none.
With one out in the fourth inning and the Angels leading 2-0, Jose Molina doubled and reached third on an error by center fielder Alex Sanchez. The next six Angels reached base, chasing Robertson, and Jose Guillen capped the rally by hitting a two-run homer off reliever Gary Knotts.
Red Sox 4-7, Devil Rays 0-3
Boston -- Boston finally allowed a run after 32 scoreless innings, then extended its winning streak to six with a 7-3 victory over Tampa Bay in the second game of a day-night doubleheader. Jason Varitek's three-run homer capped a seven-run first inning after Byung-Hyun Kim, making his season debut, and three relievers pitched Boston's third straight shutout, 4-0, in the opener.
The scoreless streak ended quickly in the night game as Derek Lowe (3-1) allowed two runs in the first on Rocco Baldelli's RBI groundout and Robert Fick's run-scoring double.
Orioles 9, Mariners 5
Baltimore -- Eric DuBose pitched seven innings of three-hit ball and Melvin Mora and Brian Roberts had four hits apiece, leading Baltimore past Seattle. Luis Matos had three hits and drove in two runs for the Orioles, who won the final two games of the rain-shortened three-game series.
Baltimore had 15 hits, including 12 against Seattle starter Joel Pineiro (1-3).
Copyright 2018 The Associated Press. All rights reserved. This material may not be published, broadcast, rewritten or redistributed. We strive to uphold our values for every story published.