Chicago — Matt Clement often gets overlooked in the Chicago Cubs' dazzling rotation.
He doesn't have a blazing fastball like Mark Prior or Kerry Wood, or the pinpoint control of Greg Maddux. And Clement certainly doesn't display fiery emotions like Carlos Zambrano.
But make no mistake, Clement is every bit as nasty as his better-known teammates. He took a no-hit bid into the seventh inning and struck out a career-high 13 Sunday, leading the Cubs to a 4-1 victory over the New York Mets.
"I don't pitch for appreciation," Clement said. "I'm out there pitching for myself, my family and my team. Getting appreciation will come if we win as a team."
And he and his teammates are doing their part, winning six straight. Starters have earned all six wins, and Chicago has outscored its opponents 39-5 during the streak.
Clement (3-1) gave up two hits in eight innings, including a solo homer to Karim Garcia with one out in the seventh that broke up the no-hit bid.
Aramis Ramirez hit a two-run homer, and Michael Barrett and Corey Patterson each drove in a run to back Clement.
"I guess it's pretty hard to throw a no-hitter ... but that's not the important thing," Clement said. "We're trying to keep a winning streak here, not throw no-hitters. We're trying to build on something."
The Mets have lost eight of 10 and look like a team from the dead-ball era, scoring just 13 runs in their last nine games.
Al Leiter (1-1) came in having given up one run in three starts. But the Cubs tagged him for three runs in five innings, and he was lifted for pinch-hitter Danny Garcia in the sixth.
But even with the wind gusting out, the Mets weren't doing anything against Clement. He retired his first six batters -- the last four on swinging strikeouts -- before walking Todd Zeile to start the third. After Ricky Gutierrez reached on a fielder's choice, Clement retired his next 10 hitters, striking out the side in the fifth inning.
"What he did today is what he's capable of doing in every start," Barrett said. "That's just how good his stuff is."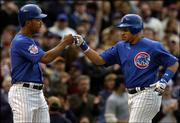 Rockies 4, Astros 1
Denver -- Vinny Castilla set a franchise record with an RBI in his 10th straight game, and Joe Kennedy (3-0) pitched into the seventh inning.
Expos 2, Phillies 0
Montreal -- Zach Day (2-1) and Rocky Biddle combined for Montreal's second shutout, and Matt Cepicky hit a two-run double in the sixth to send the Expos to their first win at Olympic Stadium this season.
Pirates 6, Reds 0
Pittsburgh -- Oliver Perez (2-0) shrugged off a nearly three-hour rain delay to shut out Cincinnati on six hits in his first major-league complete game.
Cardinals 5, Brewers 2
Milwaukee -- Albert Pujols and Jim Edmonds hit consecutive home runs in the first inning, and Jeff Suppan gave up three hits in 72/3 innings for St. Louis. Reggie Sanders added his seventh homer, and Suppan (2-2) took a shutout into the eighth before giving up a solo shot to pinch-hitter Keith Ginter. Ben Sheets (3-1) also went 72/3 innings, striking out seven and allowing three runs.
Dodgers 9, Giants 0
Los Angeles -- Kazuhisa Ishii (3-1) pitched a four-hitter for his first shutout, Milton Bradley homered twice, and Los Angeles won for the eighth time in 11 games -- including five of six meetings with the rival Giants.
D'backs 12, Padres 7
Phoenix -- Richie Sexson homered twice and drove in three runs, helping Arizona beat San Diego. Sexson hit a two-run homer off Brian Lawrence (2-2) to cap a four-run third inning, then homered to start another four-run outburst in the fifth.
Braves 7, Marlins 2
Miami -- Mark DeRosa homered for the first earned run off Dontrelle Willis this season, and J.D. Drew's bases-loaded triple off Tommy Phelps broke a tie in the seventh inning to lift Atlanta.
Copyright 2018 The Associated Press. All rights reserved. This material may not be published, broadcast, rewritten or redistributed. We strive to uphold our values for every story published.