DETROIT — Rondell White had been waiting for a chance to make a good impression at Comerica Park.
White hit a three-run homer off Chad Durbin in the ninth inning Saturday, giving the Detroit Tigers a 5-2 victory over the Cleveland Indians.
"That felt good, because I haven't been hitting the ball well at home this year," White said. "I was just trying to hit something in the air, and I got a ball I could drive."
Fernando Vina led off the inning with a bloop single to right off Scott Stewart (0-1), but Carlos Guillen struck out trying to bunt.
Durbin relieved and threw away a pickoff attempt for an error that advanced Vina to third. Ivan Rodriguez was intentionally walked, and White homered into the left-field stands.
Indians manager Eric Wedge said he never considered walking White to pitch to Bobby Higginson.
"You want to have a base to play with in that situation," he said. "If you walk White, then Chad has nowhere to put Higginson. That gives too much of the advantage to the hitter."
White, 3-for-5 in his career against Durbin with two homers and a double, wasn't surprised that Durbin pitched to him.
"I knew they would do that," he said. "They would go after me with stuff outside the strike zone and try to strike me out. I just waited for something I could hit."
Detroit, which lost an AL-record 119 games last season, improved to 11-7. The Tigers didn't get their 11th win last season until May 23, when they were 11-35, but that team didn't have Vina, Guillen, Rodriguez or White.
"Obviously, we talk a lot about Pudge and the infielders, but if I've overlooked Rondell, I need to apologize to him," Tigers manager Alan Trammell said. "It's a pleasure to be able to write the names of professional hitters into the lineup every day."
Cleveland had loaded the bases in its half of the ninth off Ugueth Urbina (1-0). Omar Vizquel and Jody Gerut drew one-out walks, and Travis Hafner was hit by the next pitch.
Matt Lawton popped out to shallow left field, and Vizquel tried to score from third, but was thrown out by Guillen.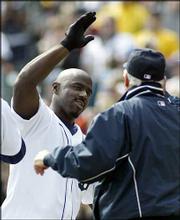 "I have no problem with that play," Wedge said. "He's being aggressive and trying to steal a run."
Detroit starter Nate Robertson allowed two runs, four hits and four walks in five innings, while Cleveland's Cliff Lee gave up two runs and five hits in six innings.
Detroit took a 1-0 lead in the first when Higginson walked with the bases loaded -- the third time in two days Cleveland pitchers forced home a run with a walk. The Indians walked six, a day after walking 11.
"I don't know what happened," said Lee, who walked five batters and hit two more. "I was trying to throw strikes -- maybe I was trying too hard."
Devil Rays 4, White Sox 1
Chicago -- Julio Lugo drove in two runs, and Doug Waechter allowed one run in six innings to lead Tampa Bay over Chicago. Frank Thomas of the White Sox homered for the second straight day after missing three games because of a hamstring injury. With an eighth-inning walk, Thomas moved past Hank Aaron into 21st place on the career list with 1,403.
Two innings earlier, Thomas was hit in the left shoulder by a Waechter pitch. Thomas took a step toward the mound, but plate umpire Ed Rapuano quickly got in front of him.
Rangers 3, Mariners 0
Arlington, Texas -- Hank Blalock hit a tiebreaking home run in the eighth inning, and Texas beat Seattle to move two games over .500 for the first time in almost four years. Texas (10-8)had not been two games over since June 8, 2000, when the Rangers were 30-28.
Blue Jays 5, Orioles 4, 12 innings
Baltimore -- Frank Catalanotto hit a tiebreaking single in the 12th inning, leading Toronto over Baltimore. Chris Woodward led off the 12th by doubling off the left-field wall against Mike DeJean (0-1). Catalanotto followed with a single through the hole at shortstop. Kerry Ligtenberg (1-0) pitched two scoreless innings for the Blue Jays, off to a franchise-worst 5-12 start. Toronto, which stranded 18 runners, has come from behind in four of its wins.
Angels 6, Athletics 3
Oakland, Calif. -- Vladimir Guerrero homered, helping Kelvim Escobar earn his first win for Anaheim. After losing two of three at home to the A's last weekend, the Angels have taken the first two games of this three-game series against their division rivals. Two of Anaheim's big offseason additions played a big part in the latest win for the Angels, who went from World Series champions in 2002 to 77 wins last season. Guerrero hit his fifth homer of the season, and Escobar (1-1) recovered from a shaky start to pitch five innings for the victory as the Angels tied the A's for first in the AL West.
Red Sox 3, Yankees 2,
12 innings
New York -- Mark Bellhorn drove in Manny Ramirez in the 12th inning with Boston's third sacrifice fly, and the Red Sox defeated New York, their fifth win in six games this against their bitter rival.
Scott Williamson, Alan Embree and Keith Foulke (1-0) and Mike Timlin held the struggling Yankees offense without a run for six innings, increasing the bullpen's scoreless streak to 222/3 innings and helping Boston drop New York to 8-10.
Boston jumped out to a 2-0 lead with an assist from Yankees starter Kevin Brown, but Alex Rodriguez brought New York to 2-1 with his first homer in pinstripes.
Copyright 2018 The Associated Press. All rights reserved. This material may not be published, broadcast, rewritten or redistributed. We strive to uphold our values for every story published.