Kansas City, Mo. — Carlos Beltran had a birthday party at the Minnesota Twins' expense.
Beltran homered and tripled Saturday on his 27th birthday, helping the Kansas City Royals rout Minnesota, 10-1, for their second victory in 10 games.
"Today is my birthday, and God really blessed me with a good day," Beltran said. "This is one of my best birthdays. I just feel good at the plate. I'm being patient and seeing the ball good."
Beltran, tied for the AL lead with seven homers, hit a solo shot into the right-field seats in the third off right-hander Seth Greisinger (0-1). Beltran, also the AL leader with 20 runs, tripled to right in the fifth to score Tony Graffanino.
Both of Beltran's hits were off Greisinger.
"He's smoking," Greisinger said. "He's certainly not a guy you want to make a mistake to, and I made a couple. He takes advantage of mistakes. On the home run, I threw down and in at his knees, but that's his power zone, right in his loop. He's a hot hitter, and I knew that going into the game.
"On the triple, it was a curveball and he pulled it down the line. I think both of those are hitters' pitches. I did all right, but that is one guy you've got to watch out for."
Rookie reliever Shawn Camp (1-0), who replaced injured starter Darrell May in the fifth, allowed just two hits in 3 2/3 scoreless innings to pick up his first major-league victory.
"I've got the ball from this win and it is going in my new trophy case," Camp said. "I'm only 299 balls away from 300. No one can take this day away from me."
May left because of a strained muscle in his left groin area. He allowed one run on four hits and two walks in 4 1/3 innings.
"We don't think it is serious right now," Royals manager Tony Pena said.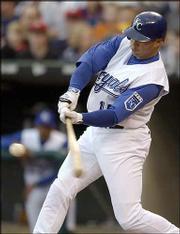 Pena said it was not the same area that landed May on the disabled list twice in 2002 because of groin strains that bothered him in spring training last year and this March.
"It was an unfortunate incident with Darrell," Camp said. "I was able to go out and throw strikes to a great hitting team and got a lot of ground balls. This is a great team and we've had some tough losses. This game is something we can build on."
Joe Randa doubled in the second and scored on Ken Harvey's single for the first Royals' run. Harvey, who has hit safely in 10 of his 11 starts, had three hits, raising his average to .413.
Michael Ryan's two-out triple in the third scored Cristian Guzman for the only run May allowed.
The Royals hiked their lead to 5-1 in the sixth on Graffanino's two-run single. One of the runs was unearned after Guzman committed his second error of the game. Graffanino also had an RBI single in the Royals' four-run eighth.
Matt Stairs homered in the seventh and had a run-scoring single in the eighth for the Royals.
Notes: Twins C Rob Bowen made his second start, giving Henry Blanco a rest. ... Royals 2B Desi Relaford, on the disabled list because of a pulled left hamstring, reported Saturday to the Royals' Omaha affiliate, to begin a rehab assignment. If Relaford has no setbacks, he will rejoin the team Tuesday. ... The Royals turned four double plays, with Blanco having a hand in each. ... Graffanino collected three hits and is hitting .448 in his seven-game hitting streak.
Copyright 2018 The Associated Press. All rights reserved. This material may not be published, broadcast, rewritten or redistributed. We strive to uphold our values for every story published.