Des Moines, Iowa — Kansas University sophomore Cameron Schwehr won the 1,500-meter championship Saturday on the final day of the 95th annual Drake Relays.
Schwehr finished the race in a season-best time of 3:49.51 at Drake Stadium. Senior Abraham Kimeli also competed in the 1,500 and finished 13th in 3:58.73.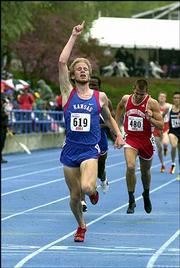 Junior Sondra Rauterkus finished second in the high jump after clearing 5-feet, 8-inches, and junior Brooklyn Hann placed fourth in the 100-meter hurdles in a time of 13.64.
KU senior Leo Bookman, who ran unattached, won the 100-meter dash with a time of 10.64.
The Jayhawks travel Friday to the Big 12 Conference Outdoor Championships in Norman, Okla.
Copyright 2018 The Lawrence Journal-World. All rights reserved. This material may not be published, broadcast, rewritten or redistributed. We strive to uphold our values for every story published.