New York — After a tense hour in which Eli Manning was a prospective law student, the NFL's first family of quarterbacks got what it wanted.
Eli will be a New York Giant.
In one of the most bizarre first hours in recent draft history, Manning was taken with the first pick by the San Diego Chargers, for whom he announced he wouldn't play.
Manning then appeared on the stage at The Theatre of Madison Square Garden with his parents, Archie and Olivia, looking as glum as any No. 1 pick ever has as commissioner Paul Tagliabue held up a Chargers jersey with "1" on it. He didn't put on the Chargers hat, and boos cascaded down from the galleries.
An hour later, as Manning walked away from the podium at a press conference in which he insisted he would go to law school, someone rushed into the room to say the Giants just obtained him for another quarterback, Philip Rivers, whom they had taken with the fourth overall pick.
"I'm a lot happier now than I was 10 minutes ago," Manning said, jumping back on the podium. He then returned to the main room for a much happier picture, this one including brother Peyton and agent Tom Condon, the man behind the maneuvering.
Meanwhile, the rest of the draft went on around that soap opera, continuing on until well after 10 p.m. with four more rounds due today.
With the second pick, Oakland took offensive tackle Robert Gallery of Iowa, and with the third Arizona chose wide receiver Larry Fitzgerald of Pittsburgh, a ball boy for Cardinals coach Dennis Green when he coached in Minnesota.
Washington then chose safety Sean Taylor of Miami, the first of six Hurricanes taken in the opening round, a record.
Cleveland paid a high price simply to move up one spot for Miami tight end Kellen Winslow Jr. Detroit got the Browns' first-round pick and their second.
The Lions then took Texas wide receiver Roy Williams, who, like Taylor and Winslow, ranked as players with long-term star potential. And they used a second-round pick to move up late in the first to choose Kevin Jones of Virginia Tech, considered by some the best running back in the draft.
"We felt the second round was a pretty good price to pay," Browns coach Butch Davis said of the deal that brought him Winslow, whom he recruited for Miami. "He's going to bring a lot of energy and help this offense. He's a lightning rod."
That was typical of the round.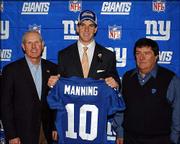 Five wide receivers went in the first 15 picks and six players from Miami in the first 21: Taylor, Winslow; linebackers Jonathan Vilma by the New York Jets and D.J. Williams by Denver; guard Vernon Carey by Miami; and defensive tackle Vince Wilfork by New England.
The Miami picks broke a record for most selections from one school in the entire first round, set by Southern California in 1968 and tied by the Hurricanes in 2002.
The seven wide receivers chosen in the first round set a draft record.
There were 10 trades during the first round, most notably the one between San Diego and New York.
The Giants seemed delighted, implying that Eli could be as good as Peyton, the NFL's co-MVP last season for Indianapolis.
"We all had the unanimous opinion this was a special quarterback, and you don't get a chance very many times, for decades, to select someone like him," general manager Ernie Accorsi said.
But the Chargers made out wonderfully.
Not only did they get Rivers, who completed 72 percent of his passes last season at North Carolina State, but they also got the Giants' third-round pick this year and their first and fifth next season. The third quarterback considered on a par with Manning and Rivers, Ben Roethlisberger of Miami of Ohio, ended up going to Pittsburgh with the 11th overall choice.
One startling deal was Buffalo acquiring Dallas' first-round pick, 22nd overall, to take the fourth quarterback of the round, J.P. Losman of Tulane. In return, the Bills surrendered their first-round pick next year and a second- and fifth-rounder this year.
In a deep draft, the second round was full of players who might normally be first-rounders.
Before the start of the draft, Tagliabue paid tribute to Pat Tillman, the former Arizona Cardinals safety who gave up his NFL career to serve as an Army Ranger and was killed this week in Afghanistan.
Copyright 2018 The Associated Press. All rights reserved. This material may not be published, broadcast, rewritten or redistributed. We strive to uphold our values for every story published.