New Orleans — The New Orleans Hornets relied on defense and inspired play by their banged-up All-Star guard to get back into their first-round playoff series.
Baron Davis, nursing a sprained left ankle, had a team-high 21 points, and the Hornets held Miami to 32.9 percent shooting in a 77-71 victory Saturday.
He scored on three-pointers and by driving hard to the basket, once knifing into three defenders to convert a scoop shot late in the fourth quarter.
"I just know when the season's over I'm going to lay in bed for three weeks," said Davis, who went to the floor several times in the game after driving hard to the hoop. "My elbow, my knee, my ankle, back -- just got to keep fighting."
The Heat lead the best-of-seven series, 2-1. Game 4 is Tuesday night in New Orleans, and it promises to be physical.
"I expect it to pick up. We're not losing without a fight," Heat forward Lamar Odom said. "Every time it's going to come down to the wire and be a close game. It's going to be a schoolyard scrap."
The Hornets shot just 35.5 percent, but made up for it with their defense.
"It's just physical. They're a tough team, and we know if we're going to win the series we've got to get down and dirty with them," Hornets forward P.J. Brown said.
David Wesley shot 3-of-4 from three-point range for 18 points, making the Hornets' starting guards their two high scorers.
Jamaal Magloire fought through constant double-teams for 12 points, hitting all six of his free throws, including two in the final minute that gave New Orleans a much-needed four-point cushion.
New Orleans, coming off an embarrassing 93-63 loss in Game 2, led 59-50 early in the final period after George Lynch's baseline jump shot. Then Odom and Caron Butler combined to help Miami nearly pull it out.
Odom had a putback, a pair of free throws and a jumper before being elbowed in the eye and needing six stitches, which kept him out of the game for about half the period.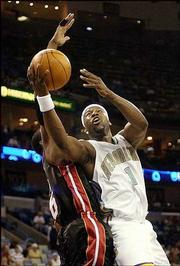 Butler picked up the slack, starting with a putback of his own miss with a little more than six minutes to go. He went on to hit a baseline jumper and six free throws, the last two cutting Miami's deficit to 73-71 with 1:47 left.
But he then missed a three-pointer that would have given Miami the lead. On the other end, Magloire grabbed an offensive rebound in a crowd and got fouled, hitting both free throws to put New Orleans up 75-71 with 55 seconds to go.
After Rafer Alston and Eddie Jones missed three-pointers, Stacy Augmon was fouled after a rebound and iced the game with two more free throws.
Butler finished with 24 points and 15 rebounds, and Odom had 18 points.
New Orleans had been hurt by turnovers leading to easy Miami baskets in the first two games. On Saturday, Miami scored just eight fast-break points and committed 17 turnovers, while New Orleans scored seven points on the fastbreak and turned the ball over only nine times.
"We were picking the ball up at half court, trying to stop that outlet pass," Davis said. "That's where we're going to be most effective -- slowing them down and make them execute their half-court offense."
Pistons 95, Bucks 85
Milwaukee -- Ben Wallace had 13 points and 21 rebounds as the Pistons shut down Milwaukee in the final four minutes and took a 2-1 lead in the series. Game 4 is Monday in Milwaukee.
A dunk by Milwaukee's Joe Smith pulled the Bucks within 85-84 with four minutes remaining before Detroit employed its suffocating defense.
The Bucks missed their final nine shots, with their only point down the stretch coming on a free throw by Desmond Mason with 2:53 left.
Wallace, limited by foul trouble in the first half, grabbed 16 of his rebounds and scored 11 of his 13 points in the second half. Chauncey Billups scored 21 points to lead Detroit.
Mavs 104, Kings 79
Dallas -- Marquis Daniels shook, spun and shot his way to 11 of his 22 points during a third-quarter spurt that deflated Sacramento and sent Dallas to victory in Game 3.
Dallas, down 2-1 in the series, has a chance to even it in Game 4 Monday.
Dirk Nowitzki remained a consistent force with 21 points, and Michael Finley added 18.
Sacramento's Mike Bibby showed no signs of a strained hip sustained in practice Friday, scoring 22 points. He had 15 of Sacramento's 25 first-quarter points, making six straight shots along the way.
Chris Webber was 9-for-17 for 22 points for the Kings.
Nuggets 107, Timberwolves 86
Denver -- Carmelo Anthony scored 24 points and added 10 rebounds, leading the Nuggets to over Minnesota in Game 3.
Playing at home in the postseason for the first time in nine years, the Nuggets earned their first home playoff victory in a decade and avoided going down 3-0 in the series. They can even the series Tuesday in Denver.
Latrell Sprewell scored 25 points, and Kevin Garnett added 24 for the Timberwolves, who fell behind by 17 points early. Garnett added 11 rebounds, but that was far fewer than the 21 he had averaged in the first two games.
Copyright 2018 The Associated Press. All rights reserved. This material may not be published, broadcast, rewritten or redistributed. We strive to uphold our values for every story published.