Denver — In a matchup of old guys, Roger Clemens tied another of baseball's Hall of Famers.
Clemens earned his 314th win to pull even with Gaylord Perry for 15th place on the career list, leading the Houston Astros over the Colorado Rockies, 8-5, Saturday.
"It is pretty gratifying when you guys write my name alongside some of the greats that have come through here and played in the past," Clemens said. "It makes me feel proud, and a lot of those guys I watched and learned about my first couple of years in the league."
Clemens, who received an ovation when he went to the mound in the first inning and when he left in the sixth, was opposed by Jeff Fassero, who also is 41. It was the first time two starters 41 or older faced each other since California's Don Sutton (42) pitched against the New York Yankees' Tommy John (44) on Aug. 24, 1987, according to the Elias Sports Bureau.
"Guys have played at this age before and had success at it," Clemens said. "My body takes a little longer to recover and bounce back than I would like."
Clemens improved to 4-0 for the second straight season, striking out seven in 52/3 innings.
Giants 5, Dodgers 3
Los Angeles -- Jerome Williams pitched 82/3 innings, and Ray Durham hit his 27th career leadoff homer to help San Francisco beat Los Angeles for just its second victory in the last 10 games. Barry Bonds went hitless in one at-bat with three walks in the Giants' first win over the Dodgers this year.
Padres 4, D'backs 2
Phoenix -- Ryan Klesko hit a tiebreaking, two-run double in the ninth inning, and San Diego beat Arizona. The Padres tied it in the eighth with the help of three walks.
Reds 9, Pirates 7
Pittsburgh -- D'Angelo Jimenez, staying in the lineup despite a bad slump, homered and drove in three runs, and Cincinnati rallied from four runs down to beat Pittsburgh. Jimenez was in a 1-for-29 slump before getting three hits and reaching base five times for the Reds.
Marlins 7, Braves 4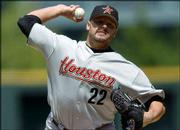 Miami -- Jeff Conine hit a two-run homer, and Luis Castillo matched a career high with four hits, helping Florida beat Atlanta for the first time in five tries this season.
Cubs 3, Mets 0
Chicago -- Kerry Wood struck out nine and allowed only four singles in seven innings, and Sammy Sosa backed him with a home run to give Chicago a victory over New York. It was the Cubs' fifth straight win, their longest streak of the year. They've allowed only four runs during the stretch, outscoring opponents 35-4. The Mets lost for the seventh time in nine games and have scored only 12 runs in their last eight games.
Brewers 3, Cardinals 1
Milwaukee -- Chris Saenz allowed two hits over six innings to win his major-league debut, leading Milwaukee over St. Louis. Saenz, a 22-year-old right-hander, struck out seven and walked three. He was brought up Friday from Double-A Huntsville when Chris Capuano was put on the 15-day disabled list because of a leg injury.
Phillies 7, Expos 0
Montreal -- Randy Wolf homered, hit an RBI double and pitched a four-hitter for his seventh career shutout, leading Philadelphia over Montreal. Wolf (1-1), who pitched his 11th career complete game, hit his second major-league homer.
Copyright 2018 The Associated Press. All rights reserved. This material may not be published, broadcast, rewritten or redistributed. We strive to uphold our values for every story published.