When Nick Wilcox was 8 years old, his parents made a deal with him: They would help him buy a bike if he worked in the cheese shop of his dad's store.
Nick has worked at Round Corner Drug Store ever since, but now he's moved out of the cheese shop and into the pharmacy with his dad, Tom.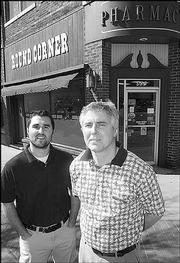 Tom Wilcox couldn't be happier about working with Nick and his daughters, Nicole and Jenna. It's allowed him a relationship he didn't quite have with his father, a traveling salesman who he only saw on weekends. Owning the business has allowed Tom Wilcox the freedom to work with his children and to see them grow up.
"That's what it's all about, really," he said.
Wilcox bought Round Corner 18 years ago. It's been hard work, he said, but it's also been "the mother ship" that has brought the family together. He said the job allowed him to watch his children play sports in the evenings.
Although Wilcox has enjoyed the flexibility of owning a business, competition can be stiff for small pharmacies going against large companies like Wal-Mart and Walgreens. Wilcox said that small pharmacies banded together in buying groups to keep prices competitive. Round Corner also offers free home delivery, a service some other pharmacies charge for.
But that might not be enough to keep small pharmacies in business, Nick Wilcox said. He said that with the prices of prescriptions going up and insurance co-payments going down, the profits for pharmacists are getting smaller. To make up the difference, pharmacists may begin charging for counseling, he said.
Counseling is a way innovative small pharmacies can boost revenue, said Ron Ragan, a faculty member in the pharmacy practice department of the Kansas University school of pharmacy. Pharmacists are required to provide basic counseling about dosage, side effects, how to take and store medicine and other information on the prescriptions they sell. Pharmacists could charge for counseling about medicine bought by mail order or at another pharmacy, Ragan said. Pharmacists also could charge for counseling customers on complex drug interactions.
Despite the ways the industry was changing, the Wilcoxes remained optimistic about their business.
"It's a lot of gloom and doom for pharmacists, but most are doing OK right now," Tom said.
Said Nick Wilcox, "People will always be sick and people will always need medicine."
Nick said he probably never thought he might take over the business when he started working in the cheese shop 15 years ago. But now in his second year at Kansas University pharmacy school, he said he would like to take over when his father retired.
It will be a while before that happens, though, Nick Wilcox said. Tom said he didn't plan to retire anytime soon. Nick could understand why.
"He's proud of the business he's built, he's proud of us and how we turned out," he said. "He loves his business and his family, and now the two are coming together. He gets a little bit of both, and he's excited about that."
Copyright 2018 The Lawrence Journal-World. All rights reserved. This material may not be published, broadcast, rewritten or redistributed. We strive to uphold our values for every story published.