Leaders touting Lawrence's potential in the life sciences arena have added a new poster child for success.
After a year of bragging about landing Serologicals Corp., Chamber of Commerce officials now are hoping a smaller company -- Deciphera Pharmaceuticals -- will help lure even more biotechnology businesses to the city.
"I hate to use the term ripple effect, but it really is the secondary impact of having those jobs here," said Ted Haggart, co-chairman of the Chamber of Commerce's Life Science Task Force.
Deciphera, which moved into the former Oread Inc. offices at 15th Street and Wakarusa Drive last year, already has sold its ideas for treating such conditions as cancer, Alzheimer's disease, arthritis and diabetes to Kansas investors.
Just 10 months after relocating from the bioscience hub of Cambridge, Mass., the company announced in December it had raised $15 million in private financing for its drug-developing efforts.
"We really need a success story," said Matt McClorey, chief executive of the Lawrence Regional Technology Center. "People in Lawrence have been talking about the potential in Lawrence for a long time. But now we have a company that has relocated, raised a lot of money and hit all their targets. This could be the company that pulls it all together for Lawrence."
Deciphera apparently is attracting wide interest from investors because, unlike many startup drug companies, it is working on more than one drug. Company co-founders Dan Flynn, who has a doctorate from Kansas University, and Peter Petillo said that was because their research made what they believe to be a new discovery about proteins in the human body.
Through their research, they discovered that patients with several types of diseases had similar protein problems. Specifically, what they call the proteins' "switches," which determine when the proteins are active and inactive, did not properly function. Once the pair made that discovery, they were able to begin developing a drug platform system designed to treat that specific area of the protein.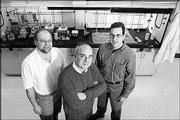 The company, which received patents for four projects, has had discussions with five major pharmaceutical companies about creating partnerships to bring the drugs to market, Flynn said. That could happen by 2011.
If successful, the financial implications could be huge. Flynn estimated that the four projects, once completed, could generate drug sales of $50 billion a year for the pharmaceutical industry.
"We're engineering drugs to do what drugs have never done before," he said. "That's why we're excited. That's why the investors are excited."
Valentino Stella, a Kansas University professor of pharmaceutical chemistry, said Flynn's decision to return to Lawrence could mark the start of a trend for former KU students with startup companies.
"With the quality of life, he wanted to move to Lawrence," Stella said. "I hope he's very successful. It's going to take someone like Dan and taking that risk of doing it in Lawrence to get this off the ground."
Copyright 2018 The Lawrence Journal-World. All rights reserved. This material may not be published, broadcast, rewritten or redistributed. We strive to uphold our values for every story published.