Martha Matthews works only 90 minutes a day at the Lawrence Humane Society, but she may be the shelter's most dedicated worker.
"She's the only employee that every day says, 'Anything else you want me to do for you?'" said Midge Grinstead, executive director of the Lawrence Humane Society.
Matthews, a developmentally disabled woman in her 50s, was hired in 1997 through Cottonwood Inc.'s JobLink program. She comes in six days a week and fills in wherever needed. She does not shirk any job duties.
"I like to scrub floors," she said.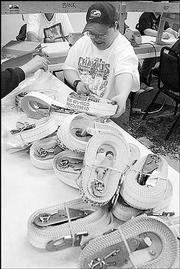 Along with janitorial duties, Matthews often acts as a greeter at the front desk. The job she takes most seriously, though, is naming the cats at the shelter. Her favorite is a gray domestic longhair she dubbed "Meridith."
Another JobLink hire, John Denny, specializes in cleaning rabbit cages. Like Matthews, Denny does an excellent job, Grinstead said.
"I can't imagine running the shelter without Martha and John," she said.
Real employees
Peggy Wallert, Cottonwood's director of community relations, said Matthews and Denny embodied the JobLink philosophy: Cottonwood executives are quick to point out, though, that their clients are treated as real employees, not charity cases.
"They're expected to do their share, whatever they've been hired to do," said Cristy Bidinger, employment specialist for JobLink.
JobLink was designed to find work for developmentally disabled adults with employers throughout the region. Cottonwood director Sharon Spratt said about 40 or 50 businesses from Lawrence, Topeka and Kansas City have participated in the program. According to Cottonwood's 2002 annual report, JobLink had nearly 100 percent success rate in placing disabled individuals with employers.
Not every JobLink hire is a success story. Some fail, but not necessarily because of their disabilities, said Grinstead, who has hired about 10 employees through the program in her seven-year tenure.
"Some found it too stressful, some just didn't work," she said. "Just like the rest of my staff."
Work services
Matthews benefits from Cottonwood's other programs as well. After her morning shift at the Humane Society, she goes to the Cottonwood facility, 2801 W. 31st St., in the afternoon and does various tasks in the Work Services division.
Work Services operates through contracts with businesses and the government. For instance, the Department of Defense recently renewed a contract with Cottonwood for the assembly of cargo nets. Bidinger characterized the work, including collating, packaging and sorting -- as "light industrial."
Matthews earns an hourly wage for these duties in addition to her income from the Humane Society. Cottonwood was founded in 1972 to provide clinical and residential services to the developmentally disabled. About 650 area residents now benefit from the organization's services, Spratt said. Of these, about 220 are JobLink participants.
In 1995, the state designated Cottonwood as the Community Developmental Disability Organization for Douglas and Jefferson counties. Besides directly providing services, the organization would also be responsible for providing information and referrals to all developmentally disabled individuals in the area. To accomplish this, Cottonwood established a separate Community Developmental Disability Organization division.
At the end of last year, the national Commission on Accreditation of Rehabilitation Facilities renewed Cottonwood's accreditation for a three-year term with "no recommendations." Of the almost 2,000 organizations nationwide that underwent the process, only the top 3 percent received no recommendations, Wallert said.
About half of Cottonwood's funds come from federal, state and county revenues. The rest comes from individual donations and corporate partnerships. Wallert said this flexibility was essential to Cottonwood's success.
"It's one of the things that makes us stable in an unstable environment," she said.
There is some concern, however, that recent budget shortfalls at the national, state and local levels may compromise Cottonwood's mission. The Community Developmental Disability Organization division has had to place several qualifying families and individuals on waiting lists the past few years.
"The need is always going to be greater than the funding that's available," Spratt said.
Still, Spratt and her associates prefer to focus not on what the community can do for Cottonwood, but on what Cottonwood can do for the community.
JobLink, for instance, benefits participant employers as much as participant employees, Bidinger said.
Copyright 2017 The Lawrence Journal-World. All rights reserved. This material may not be published, broadcast, rewritten or redistributed. We strive to uphold our values for every story published.