Adrian Jones played left tackle for only one season in college, but the Kansas University senior hopes to have a much longer career at the position.
"In the NFL, you're drafted on potential," said Craig Domann, Jones' agent. "Adrian only played offensive line for one year. KU fans might be surprised at how high he gets drafted."
Jones spent four seasons -- including a red-shirt year -- as a tight end. He was a solid player, catching 14 passes for 140 yards and a touchdown as a junior in 2002. But coach Mark Mangino convinced Jones to move to left tackle before his senior season.
That move paid off for Mangino when Jones played a critical role in a line that helped produce one of the most prolific offenses in school history.
The payoff for Jones could come today when he is expected to be taken in one of the first three rounds of the NFL Draft.
Jones won't be one of the marquee players waiting to hear his name called at Madison Square Garden in New York. He'll watch the ESPN broadcast from his room at Jayhawker Towers with family and friends.
"It's kind of like winning the lottery," Jones said. "You have to wait for the numbers to come out."
Jones is on schedule to complete his economics degree in May, and he'll have plenty of numbers to crunch after this weekend.
Domann said a left tackle taken in the second round could expect a signing bonus between $1 million and $1.5 million. If he slides to the third round, Jones still could pocket $500,000 -- and that's just for signing.
"I don't know how I'm feeling," Jones said. "I'm trying to stay as calm as possible and not get myself stressed out. I'm just going to let it happen."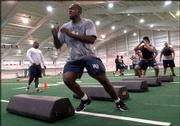 Combine critical
It has been a remarkable, rapid climb for a player who admittedly would have had little chance at the NFL had he stayed at tight end.
Jones (6-foot-5) bulked up from 260 pounds to 275 for his senior season. By the time he went to the NFL Scouting Combine in February at Indianapolis, he was up to 296.
"The combine was critical from the standpoint that he was able to demonstrate that he gained 21 pounds of lean mass since the end of the season without losing any of his athleticism," Domann said.
Stripped down to his shorts for the combine weigh-in, Jones turned heads.
"Scouts who are responsible for the Midwest weren't surprised," Domann said. "I think coaches and executives were. I think he shocked a lot of people at the weigh-in. Adrian was absolutely the most impressive physical specimen of any offensive lineman. He's ripped. He's got abs. He looks like a body builder. Then he goes over to the dome, and he just tore it up."
There were more than 300 players at the combine, including 26 offensive tackles. Jones had the second-best time in the 40-yard dash (4.95) among offensive linemen and was third in the 10-yard dash (1.71). He also had the best broad jump (9-6) among linemen.
"He's put himself solidly in the first day of the draft," Domann said. "Whether it's the first, second or third round is impossible to say. Mostly likely it will be the second or third, but the interest has just been outstanding."
Eleven offensive-line coaches attended KU's Pro Day March 17. By that time, Jones was tipping the scales at 302 pounds. Kansas City, Cleveland, Atlanta, Dallas and St. Louis followed up with individual campus workouts, and Houston and Tennessee invited him to visit their facilities.
But Jones doesn't have a clue which team will select him this weekend.
"Everyone is keeping it a mystery," he said. "I don't know of any team that wants me more than another. They're hiding their feelings pretty well."
Draft board
Part of the mystery is trying to figure out which tackles might be taken ahead of Jones.
"There are only six or eight people in the whole draft they think can play left tackle in the NFL Draft," Domann said, "and Adrian happens to be one of them."
One tackle expected to go early is Iowa All-American Robert Gallery (6-7, 323).
"After that, it could be anybody," said Domann, a 1985 KU graduate based in Colorado Springs, Colo.
Jones visited with former Kansas defensive back Andrew Davison, now with the Dallas Cowboys, during KU's football reunion last weekend. Davison was undrafted in 2002 and settled for a free-agent contract.
"He told me to work hard and keep my head on straight," Jones said. "It's a long process. Hopefully, I'll go on the first day, maybe fourth or fifth round (Sunday) at worst. But I could go in the last round, or I could be a free agent. You don't know what to expect.
"He had to prove himself as a free agent. Being drafted would make it easier for me, but I still have to go in and prove myself from day one and continue to prove myself."
New wheels
Jones hasn't decided what kind of investments he'll make with his newfound wealth, but one of his first major purchases likely will be a new vehicle. The rapidly expanding lineman has outgrown his 1998 Honda Accord, which has more than 130,000 miles on its odometer.
"I'll have to get an SUV," he said. "I have a car now, but it's getting pretty small with all the weightlifting. If I gain another 20 or 30 pounds, it will be unbearable."
Copyright 2018 The Lawrence Journal-World. All rights reserved. This material may not be published, broadcast, rewritten or redistributed. We strive to uphold our values for every story published.