Bennett Griffin Jr., president and chief executive officer of Lawrence-based Griffin Technologies, may have found the key to his company's success.
His newest product, ControlKey, enables computer owners to control what users do on computers. Marketed to parents, the software allows them to limit computer use, monitor Web sites, restrict access to Web sites, limit program accessibility and even turn off an entire computer system. He said it was a straightforward tool to monitor children's online and computer use.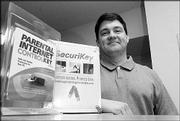 "It functions like an ignition key to the Internet," Griffin said.
The plastic key is no more than two inches long and has a key ring on one end.
The other end is a USB connection that plugs in and the computer automatically recognizes. The key slides out of the USB port and almost instantaneously changes the configuration of the computer.
"Essentially what we're selling is piece of mind," said Griffin, whose company is at 916 Mass. "In the Wild West of the Internet in their living room, it's a way of controlling computer use without being too aggressive."
Griffin Technologies' newest product is essentially a concept adapted from a previous innovation designed for businesses -- SecuriKey. ControlKey's software, however, is refined for home use and has more options and functions.
At his company, the product concept began in late 1999 -- and the premonition would prove accurate.
"We decided that information security would be the next big thing and decided to revamp the whole company," Griffin said.
Griffin began to transform his company to become consumer-oriented and found a niche that hadn't been targeted yet. Griffin said he began to find people who were purchasing SecuriKey -- designed for mobile data, like laptop users -- to use in their home and questioned them about their motives.
SecuriKey was designed for small to midsize business owners who wanted some type of control over their computer users. But between small businesses and laptop users, he found a market of users that he thought needed to be reached -- parents.
He said he had people who were frustrated with the amount of time that their children spent on the computer and wanted to do something about it.
"We talked with parents and took a look at the consumer space and tried to develop a product that would speak to that space," Griffin said.
With ControlKey, Griffin said, parents can participate in their children's online experience. Its functions on the Web also can extend to other programs by using the software.
The software can be set up on multiple computers and multiple keys can be set up for one computer. Owners also can lock up the entire computer using the key or designate the programs that can be opened without the key.
Krystyn Renfro, a Lawrence resident, said the key would suit a need for her.
"I run a small business and my employees don't need to know how much I'm spending and everything I'm doing," Renfro said.
Griffin said ControlKey was more secure than password-protected systems, because it was a piece of hardware telling computers what to allow. Without the hardware, it will not follow user commands. And no two keys are made alike.
Within each key is an encryption chip that acts like a digital key.
The next goal for Griffin Technologies is distribution and marketing -- but Griffin has a handle on that one, too. In early February, he landed a deal with Ingram Micro, the nation's largest technology distributor. He hoped this would get his product to more people within the United States.
He also has begun testing the product in Canada Best Buy and hopes to begin distributing it to specialty stores like Best Buy or Radio Shack.
He says that the company actively engages in promoting ControlKey on a multinational level and already has had contact from Europe and major companies within the United States.
Copyright 2018 The Lawrence Journal-World. All rights reserved. This material may not be published, broadcast, rewritten or redistributed. We strive to uphold our values for every story published.