Beijing — A horrific collision Thursday of two fuel transport trains near North Korea's border with China sparked an explosion that killed or injured as many as 3,000 people.
A train carrying fuel oil and another laden with liquefied petroleum gas smashed into each other at Ryongchon Station near the border with China, hours after North Korean leader Kim Jong Il passed through by train on his return from a secretive trip to Beijing, South Korea's YTN all-news cable station reported.
South Korea's state-run Yonhap news agency this morning cited unnamed government officials in Seoul saying that "about 3,000 people" may have perished or been injured. YTN reported the same casualty toll.
North Korea declared a state of emergency around the accident region and struggled to cope with the devastating blast, South Korea's Yonhap state news agency said.
"The area around Ryongchon station has turned into ruins as if it were bombarded," Yonhap quoted witnesses as saying. "Debris from the explosion soared high into the sky and drifted to Sinuiju," a North Korean town on the border with China.
A source at the Defense Ministry in Seoul, South Korea's capital, confirmed to Yonhap that "there was a large explosion near Ryongchon Station," 30 miles south of the border with China. Yonhap said sources in the Chinese border city of Dandong reported that the explosion occurred around 1 p.m. local time.
The collision occurred nine hours after Kim's specially armored green train passed through Ryongchon on its return from Beijing, where the reclusive North Korean leader met informally with Chinese leaders Monday through Wednesday, Yonhap said. Kim reportedly is afraid of traveling by airplane, so he takes a personal train when traveling abroad, armored in case of ground attack.
A South Korean government official, who declined to be identified, said one of the fuel-laden trains probably was from China, but may have come from a third country through China. All indications were that the collision was accidental. "It's not related to Kim's visit," the official said.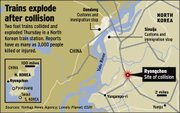 In Washington, a U.S. intelligence official said there was no indication the reported explosion was anything other than an accident.
Bush administration officials said they were relying largely on news reports of the event. The United States doesn't have diplomatic relations with North Korea, so it doesn't have an embassy there.
"We've seen some reports of a very large number of casualties. ... That, indeed, would be very sad, and obviously we'd express our sympathy to whoever was hurt," State Department spokesman Richard Boucher said.
Copyright 2018 The Lawrence Journal-World. All rights reserved. This material may not be published, broadcast, rewritten or redistributed. We strive to uphold our values for every story published.