The Carl Knox Natatorium at Lawrence High is cramped when five swim teams gather for a meet. There's not a whole lot of room for fans, and each event requires three heats because there are only six lanes.
But it's home, and that makes everything OK for the Lawrence High girls swimming and diving team.
"I think it's more fun to have their friends watch," LHS coach Ryan Adams said. "The whole track team came into watch, and that meant a lot to them."
LHS played host to the home meet Tuesday and placed second in the five-team field with 349 points. Free State won the meet with 480 points. Leavenworth (231), Topeka Seaman (178) and Topeka West (117) also attended.
While Free State coach Jama Crady was less than pleased with her team's times, Lawrence had a decent day, qualifying three for the state meet: Chelsea Dirks-Ham (1:04.88 in the 100 backstroke), Kristi Rudman (2:23.73 in the 200 individual medley) and Meredith West (199.10 in diving).
"We had some great swims," Adams said. "Last week, we had a hard practice week, and I think we're still recovering from that. We didn't have 100 percent great swims."
Dirks-Ham won the 100 backstroke, while Rudman's time of 1:16.15 in the 100 breaststroke made her a winner, too.
Free State had more individual winners, including sophomore Ashley Robinson's victories in the 200 and 500 freestyles, but overall had a slow day in the pool compared to the Firebirds' usual standards.
"I think the team did all right," said freshman Katie Swank, who won the 50 and 100 freestyles, and helped FSHS with wins in the 200 and 400 freestyle relays. "I don't think we swam up to our potential, though."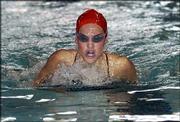 Lauren Pipkin (200 IM) and Rory Ezell (100 fly) also grabbed first-place finishes. No new Firebirds, though, qualified for the state meet.
"I don't know what it is," Crady said. "I don't know if we're tired, I don't know if we've had too many meets in too many days. I don't know if we're training enough, I don't know if we're training too much. I just don't know."
Now's the time to have the slow days, though. Two small meets and a larger meet at Wichita Trinity is all that's left for the Firebirds before the Sunflower League meet May 7. From there, a slow day won't be so forgiving.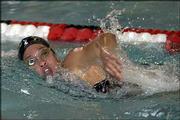 "I'm hoping that they push through this, and we're OK by league and state," Crady said. "That's what I'm hoping."
Free State will travel for a meet Thursday at Blue Valley West. Lawrence has the rest of the week off until the Wichita Trinity Invitational on Saturday.
Copyright 2018 The Lawrence Journal-World. All rights reserved. This material may not be published, broadcast, rewritten or redistributed. We strive to uphold our values for every story published.