SAN ANTONIO — Robert Horry didn't wait until the final buzzer to make his trademark shot. Instead, his dagger of a three-pointer -- two of them, actually -- came earlier than usual.
After Memphis slashed San Antonio's lead to one point late in the third quarter, Horry made two three-pointers and a putback to swing the game's momentum back to the Spurs in an 87-70 victory Monday night for a 2-0 lead in their first-round series.
Horry finished with 14 points on 6-for-9 shooting and 10 rebounds, prompting teammate Tim Duncan to accuse him of sandbagging during the regular season -- just the sort of thing the Lakers used to tease him about when Horry was cementing his late-game reputation while playing in Los Angeles.
"He just kind of hung out and did what he could," said Duncan, who had 23 points and 12 rebounds. "Now, it's playoff time, and he wants to play."
Game 3 is Thursday night in Memphis.
Horry, who collected five championship rings during his time in Houston and Los Angeles, said the first three-pointer picked him up. He made only 41 of them during the regular season, just two in April.
"I thought, 'I hadn't made a three-pointer in so long,"' he said. "I just took what was given to me."
San Antonio's defense clinched the game by holding the Grizzlies without a field goal for nearly 11 minutes spanning the third and fourth periods.
The Spurs, up by nine after three quarters, went on a 14-0 run early in the final period to build their largest lead -- 82-60.
Tony Parker led San Antonio with 27 points, 17 of them coming in the first half. He was 4-for-6 on three-pointers.
Parker took 20 shots, double the number he attempted Saturday in the Spurs' 98-74 win in the opening game.
"Sometimes he tends to forget that he's open and to let it fly," San Antonio coach Gregg Popovich said. "He was better at that tonight."
Pau Gasol led the Grizzlies with 20 points and 11 rebounds, but he had only one field goal in the second half.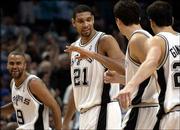 "We were playing with intensity, running and executing and stopping them," he said. "But they had that run in the fourth quarter that really killed us. We weren't playing like we did in the first three quarters."
Memphis, which trailed by 11 at halftime, made its push to open the third quarter. Mike Miller, scoreless in Game 1, scored nine quick points, and a pair of free throws by Stromile Swift cut the difference to 55-54.
"If you watched any Memphis Grizzlies basketball this year, that's how we play," Miller said. "Bottom line, it wasn't enough. I didn't get it to go in enough."
Horry made his run, and Parker hit his fourth three-pointer to put the Spurs ahead 68-59 after three quarters. San Antonio held the Grizzlies without a field goal for the final 3:49 of the period.
Memphis didn't get its next basket until Bonzi Wells had a putback with 5:02 remaining in the game to make it 82-62, ending the 14-0 run.
Wells scored 13 for Memphis, and James Posey added 10.
Lakers 98, Rockets 84
Los Angeles -- Kobe Bryant scored 17 of his 36 points in the third quarter, and Karl Malone had 17 points and eight rebounds to lead the Los Angeles Lakers past Houston for a 2-0 lead in their first-round playoff series.
Shaquille O'Neal, in foul trouble most of the game, had a career playoff-low seven points and seven rebounds. His previous low was 11 points against Utah in 1997.
The best-of-seven series moves to Houston for Games 3 and 4 Friday night and Sunday afternoon.
In Game 1, Bryant shot 4-of-19 for 16 points and Malone was 3-of-14 for seven points. It was a much different story this time, with Bryant shooting 9-of-20 from the field and 16-of-17 from the foul line. Malone shot 7-of-12.
Steve Francis, appearing in just his second playoff game, became the fourth Houston player to record a triple-double in the playoffs with 18 points, 10 rebounds and 12 assists. He has six in the regular season during his five-year career.
Yao Ming scored 21 points and Jim Jackson added 19 for the Rockets.
Copyright 2018 The Associated Press. All rights reserved. This material may not be published, broadcast, rewritten or redistributed. We strive to uphold our values for every story published.