Destiny Frankenstein put it succinctly.
"You've gotta pitch, you've gotta field and you've gotta hit," Kansas University's softball shortstop said.
Two out of three wasn't good enough, and Southern Illinois edged the Jayhawks, 5-3, in 10 innings Monday afternoon at Arrocha Ballpark.
During the last month, the Jayhawks' missing ingredient mostly has been hitting. Monday, the Jayhawks forgot to bring their gloves.
"We finally got some offense going, and we can't play defense," KU coach Tracy Bunge said. "We had four errors on the scoreboard and two more that didn't show up. It's frustrating."
Three of the Salukis' five runs were unearned, including the two in the top of the 10th that won it. Kansas earned all three of its runs by stroking seven hits -- two each by Heather Stanley and Melanie Wallach.
Wallach's triple and a pinch-hit single by Serena Settlemier gave the Jayhawks a 1-0 lead in the third. After the Salukis grabbed a 2-1 lead in the fifth, KU tied it in the bottom of the inning on pinch-hitter Sandy Smith's bases-loaded sacrifice fly.
An inning later, SIU plated a run on a walk, a fielders choice and a single, but KU sent it into extra innings on a clutch two-out seventh-inning single by Frankenstein, scoring Stanley who had plugged the gap in left-center for a one-out double.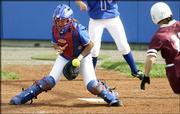 "We had big hits," Bunge said, "but you can't give up runs to a good team, and Southern Illinois is leading the Missouri Valley. They're a team we needed to beat in our region."
The Salukis boosted their overall record to 34-11. Kansas dipped to 25-23-1.
Kara Pierce went the first six innings, leaving with the Jayhawks trailing 3-2. Pierce gave four hits and two earned runs. She had fanned 12 Saturday in a 2-0 win over Oklahoma State, but notched only a pair of strikeouts Monday.
"Kara wasn't as sharp as she was Saturday," Bunge said, "but she pitched well enough to win."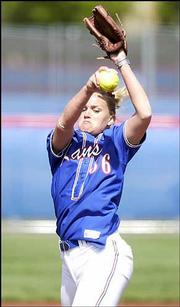 So did reliever Kassie Humphreys, who surrendered only one hit and fanned five in her four-inning stint. The only SIU safety was a bunt single by second baseman Samantha Carter in the fateful 10th.
If there was a silver lining, it was that the Jayhawks collected seven hits and fanned only five times.
"We were hitting the ball hard," Bunge said. "We were at least making loud outs. But we're not making plays on defense, and that's making it hard on our pitchers.
"If we want to make a run in the Big 12, we've got to make those plays."
Kansas won't return to conference play until this weekend at Oklahoma. First, they'll travel to Arkansas for a twinbill Wednesday afternoon.
Copyright 2018 The Lawrence Journal-World. All rights reserved. This material may not be published, broadcast, rewritten or redistributed. We strive to uphold our values for every story published.