Teens at both Lawrence high schools are showing this week that you don't have to be an adult to improve the world.
Free State High School juniors Yuan Liu and Marie Hull are encouraging their peers to recycle with the "Black and White and Read All Over" Recycling Challenge, and Lawrence High senior Katy Seibel is raising funds to reinstate a recycling program at her school. She founded the Lawrence High School Environment Club to run the program.
"The destruction of the environment is one of the most pressing issues facing our generation," Seibel said. "It's our responsibility to change some of the mistakes that have been made and to change our lifestyles."
Neither school has a school-sponsored recycling program. Lawrence High School did recycle cans and bottles, but several years ago the program was discontinued, Seibel said, because leaking recycling containers posed a health risk.
Free State has two service organizations that run recycling efforts within the school, Liu said. The biology club recycles cans, and the special education program runs a white paper recycling program.
But Liu said that recycling efforts were far below those at her hometown of Fayetteville, Ark.
"I thought it was a big change when I came here," she said. "We agreed that since newspaper is so easy to recycle, it's ridiculous not to do it."
She and Hull planned the weeklong challenge to motivate students into recycling. They have decorated 20 boxes donated from Kinko's and will place them throughout the building to collect more than 200 newspapers that pass through the school each day.
The two also will place brochures and posters around the school, giving information, such as recycling 1 ton of newspaper saves 17 40-foot Douglas fir trees, 60 pounds of air pollutants and 7,000 gallons of water. Wal-Mart donated $500 for the project, which Hull said would help the program's effects last longer than the week newspapers will be recycled.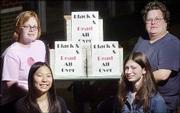 "The idea is that we want to get a bunch of people to do it all the time," she said. "We'd like people to have better recycling awareness."
At the end of the week, Lawrence Waste Reduction and Recycling will weigh the papers for a grand total of newspapers saved and recycle them.
At Lawrence High, Seibel began a club just to address recycling. She is working on recruiting a group of students willing to take recycling receptacles to Wal-Mart regularly so the program does not add additional burden to an already taxed janitorial staff.
Eighth-grader Kate Falkenstien organizes Bishop Seabury Academy's recycling program.The program recycles paper goods, plastic pop bottles and aluminum cans.Boxes are placed in all classrooms to collect recyclable products.For more information on the program, call the school at 832-1717.
She also is raising money to buy quality recycling containers. She said containers that would not leak cost as much as $70 apiece. She received a $140 grant from Lion Pride for the project, and the school's student council matched with another $140. To donate to the program, contact Seibel at katyseibel@hotmail.com.
There are many other ways that teenagers can help the environment, said Mary Olive, coordinator of the Roger Hill Volunteer Center's Youth Council. Olive helped Liu and Hull begin their program.
"The majority of the issue is giving teens the power to do it," she said. "Saying, 'I believe in you and here's how I can help you make this happen.'"
She said the city worked with the volunteer center to keep a list of ideas at www.ci.lawrence.ks.us/volunteer_center/whatsnew.html. Those interested also can join the Youth Volunteer Council by calling Olive at 865-5030.
¢ Every ton of paper recycled saves 17 trees.¢ The energy we save when we recycle one glass bottle is enough to light a light bulb four hours.¢ Each person throws away approximately 4 pounds of garbage every day.¢ One bus carries as many people as 40 cars.¢ More than one-third of all energy is used by people at home.¢ Most families throw away about 88 pounds of plastic every year.¢ We each use about 12,000 gallons of water every year.¢ One-third of all water is used to flush the toilet.¢ The 500 million automobiles on Earth burn an average of 2 gallons of fuel a day.¢ Approximately 5 million tons of oil produced in the world each year ends up in the ocean.¢ The amount of wood and paper we throw away is enough to heat 50 million homes for 20 years.¢ Earth is two-thirds water, but all the fresh-water streams only represent one hundredth of 1 percent.¢ 14 billion pounds of trash is dumped into the ocean every year.¢ It takes 90 percent less energy to recycle aluminum cans than to make new ones.¢ 5 billion aluminum cans are used each year.¢ 84 percent of all household waste can be recycled.¢ For every ton of paper recycled, we save 7,000 gallons of water free from chemicals.¢ Approximately only 10 percent of every landfill can be cleaned up.¢ Fur coats often come from endangered animals, it's best not to buy them.¢ One gallon of motor oil can contaminate up to 2 million gallons of water.¢ A washing machine load uses 25-40 gallons.¢ A dishwasher load uses 9-12 gallons.Source: planetpals.com
Copyright 2018 The Lawrence Journal-World. All rights reserved. This material may not be published, broadcast, rewritten or redistributed. We strive to uphold our values for every story published.