Boston — The New York Yankees turned themselves around Sunday -- except for Alex Rodriguez and Jose Contreras.
Derek Jeter went 2-for-4 with two walks and an RBI single in a six-run third inning, leading the Yankees to a 7-3 victory over the Red Sox. It was New York's first win against its archrival since turning Boston back just five outs from the World Series.
"We got a good win today," said Rodriguez, who walked twice but was 0-for-4 on the day, dropping to 0-for-12 in the series and .156 on the year. "I'm going to be there offensively, there's no question in my mind. But it feels good to contribute in some other way."
Contreras was spotted a six-run lead in the third, but Boston scored twice in the bottom half and knocked him out after 21/3 innings, the shortest of his 11 major league starts. With Paul Quantrill (1-0) pitching, Rodriguez threw out Manny Ramirez on a close play at the plate, and Travis Lee made a diving stop on Jason Varitek's grounder, throwing back to the pitcher barely to beat the runner to first base.
"That probably decided the game," Boston's Kevin Millar said.
Quantrill held Boston to one hit over 22/3 innings, and Gabe White, Tom Gordon and Mariano Rivera added four more scoreless innings.
Gary Sheffield doubled twice to help the Yankees rebound from a poor start by Contreras, who gave up three runs and six hits in his second rough outing in as many tries.
"I'm not angry at him or upset with him or disappointed," Yankees manager Joe Torre said. "It's something we're going to get right before this thing is over with, because his stuff is electric."
Torre could say the same thing about Rodriguez's troubles. The MVP, who flirted with the Red Sox before he was traded to the Yanks, stranded seven runners and drew a sarcastic cheer when he lofted a harmless fly to center with the bases loaded, ending the ninth.
Athletics 7, Angels 1
Anaheim, Calif. -- Rookie Bobby Crosby homered and drove in three runs, and Barry Zito pitched six solid innings.
This was the sixth time that the Angels faced Oakland's "big three" pitchers in the same series and the first since Sept. 17-19, 2002, when the A's also took two of three. In the series opener Friday, Tim Hudson beat Bartolo Colon 3-0 with 71/3 innings of six-hit ball. Mark Mulder lost a 6-3 decision to Jarrod Washburn on Saturday.
Zito (2-1) allowed a run and four hits over six innings, striking out four and walking one.
Chris Hammond pitched the final three innings of the five-hitter for his first save.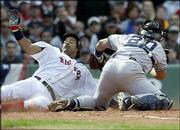 Kelvim Escobar (0-1) was charged with four runs and seven hits in 52/3 innings and struck out seven. Zito, who hit only six batters last season in 2312/3 innings, plunked Darin Erstad and David Eckstein in the first three innings.
Orioles 7, Blue Jays 0
Toronto -- Eric DuBose, B.J. Ryan and Buddy Groom combined on a four-hitter, completing Baltimore's first sweep at Toronto since June 24-26, 1994.
Miguel Tejada had four hits, and Jay Gibbons hit a two-run double for the Orioles, who allowed just 12 hits while outscoring the Blue Jays 23-5 in the series.
DuBose (1-2) gave up three hits -- all singles -- in seven innings.
Indians 9, Tigers 7
Cleveland -- Matt Lawton hit two homers off Jeremy Bonderman (1-1), scored four runs and drove in four in the sixth multihomer game of his career.
Carlos Guillen homered and had four RBIs for Detroit, which lost center fielder Alex Sanchez to a strained left groin in the seventh.
Cliff Lee (2-0) allowed three runs and six hits in 51/3 innings.
White Sox 5, Devil Rays 0
St. Petersburg, Fla. -- Esteban Loaiza (3-0) pitched a two-hitter for his fifth career shutout and 11th complete game.
Jose Valentin and Paul Konerko hit solo homers for the White Sox, who improved to 8-4 for the first time since 1992.
Jeremi Gonzalez (0-3) lost his ninth straight decision dating to August and could be sent to the bullpen.
Mariners 4, Rangers 2
Seattle -- Raul Ibanez hit a two-run homer, Bret Boone and Scott Spiezio added solo shots, and Seattle earned its first series victory this season.
Joel Pineiro (1-1) allowed two runs, six hits and four walks in 62/3 innings and struck out five. Eddie Guardado pitched a perfect ninth for his second save, completing a six-hitter.
Erasmo Ramirez (0-1) was the loser.
Copyright 2018 The Associated Press. All rights reserved. This material may not be published, broadcast, rewritten or redistributed. We strive to uphold our values for every story published.