So much for the question about whether Charles Gordon, Kansas University's talented two-way football player, will line up on offense or defense this fall.
Gordon intercepted three passes and returned one of the thefts for a touchdown during the Jayhawks' final spring scrimmage Sunday afternoon at Memorial Stadium.
"It's going to be pretty tough to move him to offense, isn't it?" KU coach Mark Mangino said, breaking into a grin, during his postgame media session.
Unless Mangino is tossing a monstrous red herring -- he wouldn't be the first college football coach to throw a spring curve -- Gordon's future as a Jayhawk is in the secondary because Mangino has vowed he will not use the sophomore from Carson, Calif., both ways again this fall.
"He can still play offense," Mangino said, "but the chances are getting slimmer as I watch him play defense."
Frankly, Gordon makes plays on defense that we're not accustomed to seeing in Memorial Stadium.
On paper, his first theft, was just a 46-yard touchdown return with an interception. What it doesn't show in black and white, however, is how Gordon miraculously plucked the errant pass off the AstroPlay surface on the dead run.
Mangino was so impressed with the scoop he compared Gordon to the New York Yankees' shortstop.
"I'm not sure Derek Jeter could have made that shoestring catch," Mangino said. "But nothing surprises me what Charles does."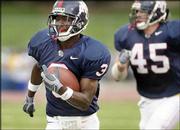 Just as impressed was the man who threw the ball -- juco transfer quarterback Jason Swanson. After Gordon had returned to the sideline, Swanson rushed over and congratulated him.
"I shook his hand," Swanson said. "I'm a good sportsman and I had to tip my hat to him. Charles is wonderful. He's a great asset for us."
Gordon, who led the Jayhawks in pass receptions last fall, worked at wide receiver in all 13 of last season's games and saw added duty at cornerback in the last four.
All in all, Gordon doesn't need to place a call to Mel Kiper Jr. or any other NFL Draft expert to learn how many 5-foot-11, 165-pound wide receivers are playing for pay on Sundays. In truth, there are more defensive tackles doing double-duty as place-kickers.
Cornerbacks that size are common, however. I know it. You know it. And Gordon knows it.
"I think about it," Gordon confirmed, "but I like the excitement of making great catches. I just can't let it go. I love offense. I'll miss it, but I'll do whatever's best for the team."
Right now whatever is best for the Jayhawks is improving a defense that was for the most part putty last season. Even with Gordon playing some cornerback in the Tangerine Bowl last December, the Jayhawks were riddled by North Carolina State. The bowl game was ugly and it wasn't the first time KU has surrendered a basketball score.
So the Jayhawks definitely need Gordon full-time on defense. They also need a healthy Gabriel Toomey at middle linebacker. It's no secret Toomey wasn't the same effective player during the second half of the season he was during the early stages.
Toomey was playing hurt and, although his injury or injuries have never been disclosed, the key for an improved KU defense this fall is -- in addition to Gordon, of course -- a healthy Toomey.
"He'll be ready," Mangino said. "No problem. He'll be ready this fall."
It's worth noting that Toomey was suited Sunday even though the 6-4, 235-pound junior knew he wasn't going to play. Toomey, who has been held out of contact all spring, wasn't made available for comment Sunday, but he clearly sent a message by putting on the gear that he'll go as far as he can to help them.
Kansas has a couple of other quality defenders -- linebackers Nick Reid and Banks Floodman stick out -- and defensive end David McMillan has made some big plays in the past, but the middle of the line has been soft and the secondary has been pedestrian.
That old adage hasn't changed. Offense still sells tickets, but defense wins games.
Copyright 2018 The Lawrence Journal-World. All rights reserved. This material may not be published, broadcast, rewritten or redistributed. We strive to uphold our values for every story published.