Ken Audus came to Kansas University as a green postdoctoral fellow looking to latch onto a successful pharmacy research program.
Eighteen years later, Audus is now in charge.
Audus, 49, today becomes dean of the KU School of Pharmacy, a nationally ranked school that is looking to adapt to the changing world of drug development and distribution.
"He rose through the ranks," said Ron Borchardt, the pharmacy professor who first recruited Audus to KU. "He went from being my postdoc to being my boss."
Audus replaces Jack Fincham, who served 10 years as dean. Fincham is leaving KU for an endowed professor position at the University of Georgia, where he started his career in academia. Fincham starts May 1 in Georgia.
Drug research
Audus, a South Dakota native, first came to KU's Lawrence campus in 1984 after graduating with a doctorate in pharmacology from the KU Medical Center. He was hired as a faculty member in 1986 and became chairman of the department of pharmaceutical chemistry in 1998.
His research, which is funded by the National Institutes of Health, focuses on the way drugs pass through the placenta during pregnancy. He's developing a lab model of a placenta, with hopes of developing drugs that mothers can take while minimizing or eliminating risks to fetuses.
Audus previously conducted similar research with drugs passing through the blood-brain barrier.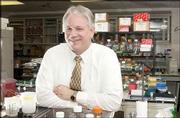 "He's garnered a lot of respect as a good scientist and a good collaborator," Borchardt said. "I think that's really going to help the school. He's a very down-to-earth person and an extremely well-organized person."
The pharmacy school currently ranks 20th in the nation among public universities, and last year received the second-highest total of research funds from the NIH, with $13.6 million.
"Of course, our aspiration is to be No. 1," Audus said. "We're only $6 million behind the University of California-San Francisco, and they have a large facility and lots of industry ties."
Fincham said he thought Audus' collaborations with researchers at the KU Medical Center would help boost those research totals. "He has very good relationships in the department, and he's highly respected at the Medical Center," Fincham said. "He knows the system in place at KU. He's been a terrific colleague and an excellent department chair."
Looking ahead
Audus said one of the major challenges facing the pharmacy school is incorporating new knowledge on topics such as the human genome and proteomics into pharmacy training. Pharmacists of the future will need to know as much about the patients they're dispensing medication for as the medication itself, he said.
He'd also like the school to expand beyond its current size, which includes 400 undergraduates, 160 graduate students, 80 postdoctoral fellows and 45 faculty members. He noted that there were shortages in the number of workers in every area of pharmacy, which may become more prominent as the 3 billion prescriptions filled yearly are expected to balloon to 4 billion by 2006.
"We can't help the national pharmacy shortage when we can't expand the size of our program," he said.
The Kansas Economic Growth Act, which promises to pump $500 million into life-science research and business, could help with that.
Audus also wants a new pharmacy building on KU's west campus in the next five years. Pharmacy operations currently are spread across five buildings.
Audus said he was excited to help the school face those challenges. When he first came to KU, Borchardt had to convince him that a career in academia would be more rewarding than a career in the pharmaceutical industry. Though he has had offers to leave throughout his KU career, Audus said he couldn't imagine going anywhere else.
"It's really the people," he said. "I've had opportunities to go but I've chosen not to. The ties I have here have grown pretty strong."
Copyright 2018 The Lawrence Journal-World. All rights reserved. This material may not be published, broadcast, rewritten or redistributed. We strive to uphold our values for every story published.