Dorothy Anderson gets a literary itch every Saturday morning, an affliction that stems from childhood.
"That was the day our family went to the library every week," said Anderson, who was raised in Minnesota. "I was always excited to get an armful of new books."
As Anderson, now 94, grew up, her love affair with libraries continued. She found a home away from home in a library no matter where she lived. And when she and her husband moved to Lawrence in 1948, it was the same old story.
"The library here just felt comfortable to me from the beginning. It still does," Anderson said. "I guess we've kind of aged together."
The Lawrence Public Library, however, still has a few years on Anderson. The program is celebrating its 100th birthday this year. And the party, featuring special library events and programs, begins this week.
"I think people are going to really love what we have planned," says Maria Butler, library community relations coordinator.
The Lawrence Public Library Centennial Celebration kicks off Tuesday with "Papyrus to Paperbacks: A History of Books," a presentation by Celia Daniels, program assistant at Kansas University's Museum of Anthropology. Daniels will speak about early forms of preserving and passing on information and ideas. Other events, including an all-day birthday party in the library lobby on Wednesday, will continue throughout the week.
However, Butler was quick to admit the celebration was about eight months premature.
The first free public library in Lawrence was actually the Carnegie Library at Ninth and Vermont streets, she said, which opened during a "vicious snowstorm" on Dec. 26, 1904.
"Technically, the library doesn't turn 100 until December, but we decided to move the party up a few months to take advantage of National Library Week," Butler said, explaining the library's calendar choice. "And probably a lot nicer weather."
National Library Week runs through Saturday.
In the beginning
Libraries have a rich tradition in Lawrence. The first local literary repository was created in October 1854, only a month after the city was founded.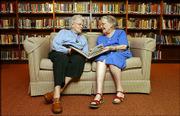 "This early library was a 'subscription' library, meaning patrons paid a fee to check out books," Lawrence historian Katie Armitage said. According to a timeline on the Lawrence Public Library Web site, membership costs in 1854 were $1 per year or $25 for a lifetime membership.
The library continued to grow in both volumes and popularity in the next few years. Amos Lawrence, the town's namesake, donated a flatboat load of books to the library in 1853. Local bookworms were in literary heaven -- until 1863, that is.
"When William Quantrill raided Lawrence, the library was completely destroyed," Armitage said. "The town had to basically start from scratch."
But, as history would have it, Lawrence was a resilient little burg. In 1865, a new circulating library opened at 735 Mass. The first library association was organized a year later.
During the next four decades, the library became a local hub of activity and a community fixture. By 1871, its collection included 1,500 volumes; in 1902, that figure had increased to 6,000. It became apparent the library was quickly outgrowing its home.
That same year, good fortune struck. A grant was obtained from steel tycoon Andrew Carnegie to build a new library, pending voter approval of the grant's criteria. The $27,500 grant specified that the city must agree to guarantee the library would be a free public library and to provide yearly maintenance. In 1903, voters approved the proposal.
Papyrus to Paperbacks: A History of BooksCelia Daniels will talk about early forms of preserving and passing on information and ideas. With slides and artifacts. Co-sponsored by Kansas Humanities Council.7 p.m. Tuesday, in the auditorium of the library, 707 Vt.Happy Birthday, Lawrence Public Library!Stop by the library for cake and fun all day long as the library celebrates its 100th birthday.10 a.m.-6 p.m., with a ceremony at 4 p.m. Wednesday, in the library lobbyCelebrating a Community Treasure: The History of the Lawrence Public LibraryLawrence Public Library director Bruce Flanders and local historian Katie Armitage will review the history of Lawrence Public Library.7 p.m. Wednesday, in the library auditoriumVan Go Art Project UnveilingThe annual meeting of the Friends of Lawrence Public Library will start with the unveiling of the Van Go Mobile Arts, project funded by the Friends, to be installed at the library's south entrance. At the meeting to follow, the year will be reviewed, officers elected and the Mary Murphy Volunteer of the Year award will be presented.4 p.m. Thursday, at the south entrance and auditoriumInnovations in Technology: The New Library Web SiteFlanders will unveil the new and improved Lawrence Public Library Web site and demonstrate some of the features and services available online.7 p.m. Thursday, in the library auditorium
"This was so crucial," Armitage said. "Not only was Lawrence getting a new library building, but the library had to be free and open to the public as a whole."
Armitage said the Carnegie Library's indiscriminate policies may have been the reason Harlem Renaissance poet Langston Hughes, who spent part of his childhood in Lawrence, wrote about feeling at home among the old building's stacks of books.
"Segregation was still very much alive in Lawrence during the years," Armitage said. "The library would have been a refuge from that."
The Carnegie Library continued to flourish through the years, serving patrons from all walks of Lawrence life. Lifelong Lawrence resident Georgiana Brune, 92, remembers the building as being a bit imposing.
"There were so many steps to the front door. It probably seemed like more because I was little," Brune said. "Inside, it was kind of dimly lit, and there was lots of wood paneling.
"The librarians were pretty stern and severe-looking, too. It was an interesting place."
Armitage said despite the Carnegie Library's importance, the most significant point in library history came in 1970, when voters approved a bond issue on a citywide ballot for a new library building.
"The library had outgrown its home once again," Armitage said, "and the people of Lawrence showed they cared."
The new library opened in August 1972 at the corner of Seventh and Vermont streets. It remains there today -- for the time being, anyway.
The next 100 years
As of February 2004, about 48,500 people in Lawrence had a registered library card. That's 56 percent of the city's population, Butler said.
An additional 10,000 people from surrounding communities in northeast Kansas are registered users as well.
"We just continue to grow, consistently and predictably," said Bruce Flanders, Lawrence Public Library director. "And much like in 1904 and 1970, we are at another crucial juncture for the building."
Members of the library board began discussing the need to improve the library's downtown operations in November. A recent proposal to move the library into vacant space at the Riverfront Plaza generated significant local chatter.
"I think a lot of people would rather see a new building built or the current building expanded somehow," said Anderson, who now depends on the library's Bookmobile service to get her reading materials. "But I think, no matter what, it is very important to keep the library in downtown Lawrence."
Flanders said a design summit would be April 28-29, to look at options for the library's future.
"Simply put, we need more room," he said. "We'd like to improve our children's area, have a computer lab and continue increased acquisitions."
Flanders has toured other new or remodeled libraries in the past year to look for inspiration and design ideas.
"We want the Lawrence Public Library to have the same community importance it has today in another 100 years," Flanders said. "This is an exciting time for us to help make that possible."
Copyright 2018 The Lawrence Journal-World. All rights reserved. This material may not be published, broadcast, rewritten or redistributed. We strive to uphold our values for every story published.