Miam — Calling the Bush administration "stunningly ineffective" at working with other countries, Sen. John Kerry said Sunday that many nations are reluctant to join the effort to stabilize Iraq, an approach he has been advocating as a solution to the unrest there.
"That is exactly the quandary that President Bush and this administration have put the United States of America in," Kerry said during an appearance on NBC's "Meet the Press" with Tim Russert. The presumptive Democratic nominee said Bush had ignored opportunities to collaborate with the United Nations and said the United States needed a new president to restore the country's relations with other nations so an international force could be created to secure Iraq.
"It may well be that we need a new president, a breath of fresh air, to re-establish credibility with the rest of the world, so that we can have a believable administration as to how we proceed," he said.
The Massachusetts senator, who has been lambasting the Bush administration for its handling of the war in Iraq, narrowed his critique of the war Sunday to the president's initial approach to the attack, deflecting a question about whether the decision to invade Iraq was itself sound.
"I think the way the president went to war is a mistake," he said.
Kerry's focus on the lead-up to the war demonstrated how Bush's recent endorsement of the role of U.N. envoy Lakhdar Brahimi, who will appoint an interim body to succeed the Iraqi Governing Council, has eliminated one of the senator's major complaints about the administration: that it has rebuffed the help of the international community.
"Now, finally, George Bush is doing what I and others have recommended for some period of time," Kerry said.
In a conference call later with reporters, Bush campaign chairman Marc Racicot seized on that statement, calling Kerry's performance on "Meet the Press" rife with "contradictions" and "a great deal of confusion."
Racicot, a former Montana governor, said he was "mystified" that Kerry has been calling "for something that is already being done by this president."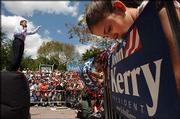 Copyright 2018 The Lawrence Journal-World. All rights reserved. This material may not be published, broadcast, rewritten or redistributed. We strive to uphold our values for every story published.