San Francisco — The Los Angeles Dodgers received a big effort from almost every player over the weekend. The San Francisco Giants had Barry Bonds.
As well as Bonds played, though, it still wasn't enough.
Bonds homered twice and drove in five runs Sunday, giving him four home runs in the series, but the Dodgers completed a three-game sweep with a 7-6 victory.
"What I saw over the weekend was reminiscent of a lot of what I saw when he had that rampage in 2001," Dodgers manager Jim Tracy said. "He doesn't get many pitches to hit, and when he does he's not fouling the ball off. He's either hitting a vicious line drive or hitting a home run."
While Bonds hit a record 73 home runs that season, it also was the only year of the last four that the Giants failed to make the playoffs. If he doesn't get more help soon, San Francisco could be in trouble again.
"In baseball, no one man carries the team," Bonds said. "We're just not doing it when we need to."
After getting timely hits and making productive outs to win the first two games, Los Angeles used the longball in the finale. Adrian Beltre, Juan Encarnacion and David Ross homered in a four-pitch span of the fifth inning against Brett Tomko (0-1) to lead Los Angeles to its first sweep in San Francisco since April 2000.
"Every year we come up here and they always beat us," Beltre said. "It's good to get the first series out of the way. Hopefully, we can keep doing it."
Jeff Weaver (1-1) allowed five runs in five-plus innings for his first win with the Dodgers, who have won five straight and nine of 12.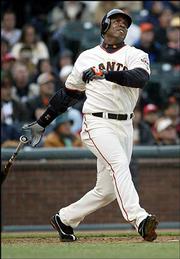 Astros 6, Brewers 1
Houston -- Roger Clemens (3-0) struck out seven in seven innings, giving up just one run and four hits to lead the Astros to their seventh win in eight games.
The Rocket also helped break the game open with his RBI single in the fourth, putting the Astros up 3-1. It was the second RBI of his career.
Reds 11, Cubs 10 (10)
Chicago -- Sammy Sosa homered twice and passed Ernie Banks for the Cubs' career record, but Juan Castro hit a two-run triple in the 10th to send Cincinnati to a wild win. Adam Dunn hit two homers.
Sosa's solo shot in the first pushed him past Banks as the Cubs' career leader with 513 homers. Sosa homered again in the third. He has 543 career homers.
Padres 6, D-backs 5
San Diego -- Ryan Klesko hit a three-run homer off Matt Mantei in the ninth inning.
Mantei (0-2) relieved to start the inning with a 5-3 lead, faced four batters and didn't get any out. Eddie Oropesa (2-1) won despite allowing a ninth-inning homer to Luis Gonzalez, his fourth.
Braves 3, Marlins 2 (10)
Atlanta -- Andruw Jones scored all the way from first in the 10th when Miguel Cabrera lost a fly ball in the sun. Jones, who homered in the sixth, drew a two-out walk from Matt Perisho (2-1) and came home on Cabrera's miscue.
Rockies 8, Cardinals 5
St. Louis -- Todd Helton homered for the third straight game. Jason Jennings (1-1) allowed five runs -- four earned -- in six innings. He added an RBI single in the fifth. Shawn Chacon worked the ninth for his third save.
Phillies 5, Expos 4
Philadelphia -- Doug Glanville homered leading off the ninth inning to give Philadelphia its fourth straight win in its new ballpark. Glanville hit a 3-1 pitch from Rocky Biddle (0-1) over the left-field wall.
Pirates 8, Mets 1
New York -- Craig Wilson drove in two runs with a homer and a single, and Pittsburgh completed its first three-game sweep at Shea Stadium since June 24-26, 1994. Wilson hit his fourth home run of the season in the fourth inning.
Copyright 2018 The Associated Press. All rights reserved. This material may not be published, broadcast, rewritten or redistributed. We strive to uphold our values for every story published.