Pittsburgh — Democrat John Kerry, with rockers Jon Bon Jovi and blink-182 in tow, is courting the college crowd that typically shuns the voting booth, hoping unease about the Iraq war and jobs propels millions of 18-to-24-year-olds to the polls in November.
"We need you to become involved in this race as never before," the presumptive Democratic nominee implored a noisy crowd of more than 5,000 at the University of Pittsburgh Friday.
The rally was Kerry's fifth college appearance in a week and reflected the campaign's sense that a new activism is brewing on campuses nationwide, fueled by opposition to the war, concerns about postgraduate jobs and Republican-led efforts to curtail gay rights and change long-standing environmental rules.
Kerry dedicates his speeches to those issues, as well as college tuition and public service, while bringing along familiar musicians and sports legends. The Boston band Guster played at one event; famed Pittsburgh Steelers running back Franco Harris and Bon Jovi joined Kerry on Friday.
The candidate recently held a conference call with college newspaper editors and the campaign has established voter registration booths on more than 40 campuses. Based on recent history, however, any presidential candidate faces a daunting task in wooing students.
Apathy toward the political process has grown in the past three decades among young voters. In the 2000 election, one of the closest in history, just 29 percent of eligible voters ages 18-24 -- about 8.4 million -- cast a ballot for president. Overall, 55 percent of all eligible voters participated.
By contrast, slightly more than 45 percent of 21-to-24-year-olds voted in November 1968 when a military draft was sending young men to war in Southeast Asia.
"The thing about this generation is, we're not stupid, we're just lazy," said Greg Heller-LaBelle, 21, the editor in chief of The Pitt News at the University of Pittsburgh. "If you could vote online, I think you'd see that number skyrocket."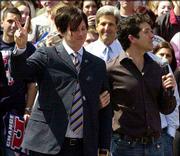 Copyright 2018 The Associated Press. All rights reserved. This material may not be published, broadcast, rewritten or redistributed. We strive to uphold our values for every story published.