Minneapolis — The Minnesota Twins are putting the depth they have in the organization to great use, with nearly half their lineup hurt.
The Kansas City Royals need first aid for their pitching staff.
Lew Ford went 3-for-4 with a two-run homer and a clutch RBI triple, leading the Twins to a 9-7 victory Friday night and sending the Royals to their fourth straight loss.
"We knew we were a little beat up," Minnesota manager Ron Gardenhire said, "but that doesn't mean anything because we've got some guys that can play."
Carlos Beltran's three-run homer tied it at 7 in the seventh, but reliever Jason Grimsley gave up an RBI single to Jacque Jones in the bottom of the inning before Ford drove in Jones with a triple. Jaime Cerda (0-1) was charged with the first run.
"Everybody contributed," Jones said. "We're not a one-man show."
Kansas City wasn't, either. Juan Gonzalez went 4-for-4 with two homers, and Mike Sweeney also connected, giving the Royals 14 home runs in their last four games (all losses) to tie a club record for that span.
It's the pitching that's the problem, though.
Kansas City hasn't had a starting pitcher get a win after 10 games, the rotation's ERA is 7.54 and the bullpen has blown the last three games.
"Sooner or later, we're going to change this thing around," said manager Tony Pena, who spoke to his team with the clubhouse door closed after the game. "We're going to keep sending them out to pitch."
Juan Rincon (2-0) earned the victory for the Twins despite giving up Beltran's homer, and Joe Nathan got two outs for his second save.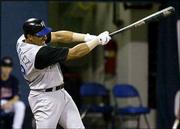 "A lot of guys have been stepping up since the injuries," said Ford, who is batting .409 in 22 at-bats since being called up to replace Torii Hunter in center field.
Hunter, first baseman Doug Mientkiewicz, designated hitter Matthew LeCroy and catcher Joe Mauer are all out, but the lineup has remained productive and this night was no exception.
Taking advantage of three Royals errors, the Twins scored twice in the second, twice in the third and three times in the fourth to take a 7-2 lead.
Shannon Stewart scored twice and hit an RBI single. Luis Rivas went 2-for-5 with two RBIs, and Michael Cuddyer also drove in a run with a single.
"That's been our M.O. as a team," Jones said. "To battle, to overcome adversity."
Beltran's big hit got starter Jimmy Gobble off the hook, but the left-hander didn't pitch well enough to deserve it. He gave up seven hits and seven runs (five earned) in five innings while striking out two. Two of the four batters Gobble walked wound up scoring, and a wild pitch gave the Twins another run.
"I started pressing a little bit too much, trying to be too fine," Gobble said. "Not pitching my game."
Minnesota starter Johan Santana was on the way to his first victory in three starts, but the Royals muscled him off the mound.
With one on in the sixth, Gonzalez sent Santana's first pitch into the left-field seats to cut the Twins' lead to 7-4.
Santana, who gave up six hits and a walk while striking out six in 6 1-3 innings, left two runners on for Rincon -- who got one out before Beltran's shot off the facade of the upper deck in right tied it.
"I was trying to throw the ball over the plate," Santana said. "Sometimes you make a couple mistakes, and the ball ends up out of the park and there's nothing you can do about it."
Gonzalez's streak is giving the Royals at least something to be encouraged about. He has 432 career home runs, moving past Cal Ripken Jr. into 30th place on baseball's career list, and three homers in his last two games after going 32 at-bats without one.
"We were waiting for this moment," Pena said. "Everybody knows the type of hitter he is."
Notes: This is the latest Royals starters have gone into a season without a win. In 1992, they didn't get one until their 18th outing. ... With RHP Rick Helling still recovering from a broken bone in his lower leg, the Twins will start RHP Seth Greisinger on Sunday. It's the first time they've needed a fifth starter this year. ... Kansas City RHP Kevin Appier will come off the disabled list and make his first start of the season Saturday. He hasn't pitched since last Aug. 26, also at Minnesota, after undergoing surgery to repair a torn flexor tendon in his elbow.
Copyright 2018 The Associated Press. All rights reserved. This material may not be published, broadcast, rewritten or redistributed. We strive to uphold our values for every story published.