Wichita — Gov. Kathleen Sebelius signed a bill into law Thursday to use bonds and sales tax revenues -- and the promise of additional federal funds -- to save state highway projects from being canceled.
The new law, which takes effect July 1, will keep the state's retail sales tax at 5.3 percent, repealing a previous law that would have allowed it to drop to 5 percent in 2006. The change will permit the state to set aside $395 million in sales tax revenues for transportation projects during the three years.
The law also will permit the state to issue $150 million in bonds immediately to shore up funding for the state's 10-year comprehensive transportation program, which started in 1999.
Legislators who drafted the measure assumed the state would receive an additional $300 million in federal transportation funds. The bill would permit the state to issue an additional $60 million in bonds if it received less federal money than anticipated.
Lawmakers' goal -- and Sebelius' aim as well -- was to make sure that the state finished highway projects it already had promised to local communities. They worried the state would lose both credibility and high-paying construction jobs if it canceled projects.
Sebelius signed the bill in a ceremony in east Wichita, at the site of a $53.1 million interchange project on U.S. Highway 54, financed by the transportation program. She said the new law was essential for an economic recovery in Kansas.
"Stabilizing the program's funding will protect thousands of high-wage jobs and ensure that Kansans continue to have the best highway system in the region," Sebelius said in a statement.
Sebelius had proposed setting aside $264 million in sales tax revenues and issuing $465 million in bonds to bolster the transportation program, without relying on additional federal funds. However, Republican legislative leaders thought the Democratic governor's plan would create too much new debt.
In February, with progress on the bill stalled, Transportation Secretary Deb Miller announced that if no legislation passed, she would have to cancel $150 million worth of projects this summer and an additional $100 million each year into 2008.
Miller said Thursday she was optimistic that the state now could fulfill its promises.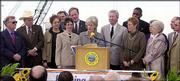 Copyright 2018 The Associated Press. All rights reserved. This material may not be published, broadcast, rewritten or redistributed. We strive to uphold our values for every story published.