When the U.S. postmaster's job in Lawrence became vacant last year, Judy Raney didn't waste time applying to transfer here.
After spending most of her career in the postal service on the East Coast, Raney, a Wellington native and a 1974 Kansas University graduate, was ready to move back to Kansas.
"I've always had a fondness for Lawrence," Raney, 51, said. "I used to drive through Lawrence, and every time I'd come back it was bigger. But a lot of the essence of Lawrence is still here. That hasn't changed."
Raney moved to Lawrence and took over the postmaster's job Dec. 4. She replaced long-time postmaster Bill Reynolds, who retired last year. She will be formally installed as the postmaster during a 2 p.m. ceremony April 23 in the main post office at 645 Vt.
Raney will be sworn in by Jim Herrman, manager of post office operations based in Kansas City, Mo.
If it weren't for a spur-of-the-moment decision and the urgings of a friend about 25 years ago, Raney might not be working in the postal service. A friend was going to take the Civil Service test and talked Raney into doing the same.
"I hadn't even thought about working in the post office," Raney said.
An education major at KU, Raney spent a few years teaching and coaching in women's athletics at the high school and college level. She taught and coached primarily women's volleyball and softball at Ball State University in Indiana and the University of Rhode Island.
A former athlete herself, Raney played softball at KU, and her 1973 team is in the KU Athletic Hall of Fame for finishing fifth in the nation, she said.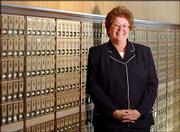 "I'm a die-hard Jayhawk fan," she said. "All my friends on the East Coast were amazed at how committed we are to our university here. They are not used to seeing that."
But Raney left the coaching ranks after she passed the Civil Service test and saw the better pay and benefits then offered by the Postal Service. She started out as a letter carrier in Warwick, R.I., in the early 1980s and gradually worked through the ranks to become postmaster. Except for a two-year stint as postmaster in Winfield, she spent most of her career in the Warwick area.
"I don't like to be bored in my job," Raney said. "I always liked learning new things."
Growing competition
In Lawrence, Raney oversees 150 employees, including 72 letter carriers. Area postal employees see that about a quarter of a million pieces of mail are delivered every day, she said.
There will be no major changes in Lawrence postal operations, Raney said. She said she was unaware of any serious personnel or morale problems. As in the past 10 years, technological improvements should continue to be developed to make the postal service more efficient, she said.
The postal service has to find ways to compete with the growing number of Internet e-mails and private delivery firms. Private firms are able to charge discounts to customers sending large amounts of mail while the post office cannot, Raney said.
"There are things that make it difficult for us to compete with different markets," Raney said.
Going high-tech
Lawrence postal service customers who gripe about long lines at the counter might be cheering come October when technology will come to their rescue. A new computerized machine will be available 24 hours a day to weigh a piece of mail, dispense postage and accept it for delivery. A customer will respond to a series of questions from the machine by punching buttons. The machines will be at both the downtown post office and Jayhawk Station, 1901 W. 31st St.
"You can come in and use it any time of the day and do what you need to do without waiting," Raney said.
Post offices everywhere continue to adjust to the threat of terrorism after the events of 9-11 and the subsequent anthrax scares at post offices, Raney said.
Although she hasn't seen any postal employees wearing face masks lately, employees are more alert than before 9-11, Raney said.
"There are a lot more employees wearing rubber gloves," she said. "Certainly there is a heightened awareness."
Raney, who is single, still likes sports and hopes to play golf in her spare time. She watched a couple of KU women's basketball games and a KU men's game. She likes museums, and she is studying the Lied Center's performance schedule.
"There are so many opportunities to do things in Lawrence at a minimum of cost," she said.
Copyright 2018 The Lawrence Journal-World. All rights reserved. This material may not be published, broadcast, rewritten or redistributed. We strive to uphold our values for every story published.